MAKING HISTORY FIRST AFRICAN AMERICAN WOMAN LEADS MATTESON
4/26/2017, noon | Updated on 4/26/2017, noon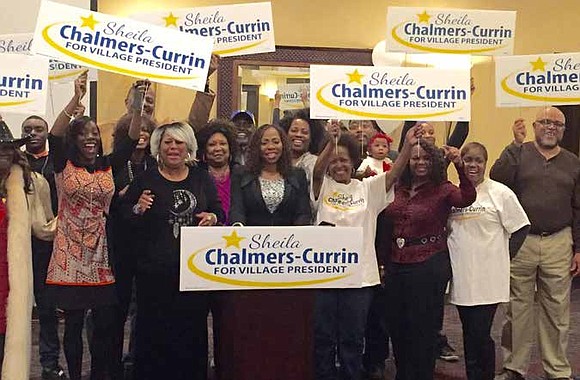 MAKING HISTORY FIRST AFRICAN AMERICAN WOMAN LEADS MATTESON
By Christopher Shuttlesworth
Sheila Chalmers-Currin has been elected as the first female African American Village President in Matteson, Illinois. Chalmers-Currin
filed for the position on December 19, 2016 because she felt there were necessary changes needed to be implemented in Matteson, according
to patch.com.
She said some of the challenges for Matteson include the re-develop of Lincoln Mall, the reestablishment of Matteson's main grocery store
and new developments of youth and senior programs.
"There are some challenges," Chalmers-Currin said. "But right now, I'm extremely excited about the possibilities with moving the Village forward. That is what I've placed my platform on, which is to move and build on what I've already started."
Chalmers-Currin, who has served as a Village trustee for eight years, said she is already planning job opportunities and mentor programs
for Matteson youth.
"Some of the things I find important is our youth and senior programs," Chalmers-Currin said. "I have already started looking into how we will develop a youth program here in the Village so
our youth will not only be able to have mentors, but have jobs in the community. Also, I'm looking for a registry for seniors who are home alone and need people to check in on them. This way, we can have people call them or to just check on them to know if they are okay."
Chalmers-Currin, who has lived in Matteson for more than 30 years, said she has never considered herself a politician.
"I've always considered myself a community advocate," she said. "Most of the times, that is how individuals get involved in politics and I believe that when you want to be a part of your community
then you join in and get involved."
Chalmers-Currin said she served as Matteson's Fire Commissioner for 10 years in the 1990's and as the Illinois' first female African American Police Commissioner as well.
"When you run for local government, it is local and it is close and it is a community that is full of your neighbors," Chalmers-Currin said.
"So, it's extremely important that you keep that neighboring feeling as we move forward."
She said being the first female African American Village President is a tremendous challenge in one light because you want to do your very best. But she said on the other hand, you also want to keep your heart with the community and do everything you can to move the Village forward.
"I have no problem with being the first in several situations," Chalmers-Currin said. "So, I'm looking forward in what I can achieve and what can be achieved for the community."