HUNDREDS RALLY TO HONOR DR. KING'S LEGACY
4/12/2017, noon | Updated on 4/12/2017, noon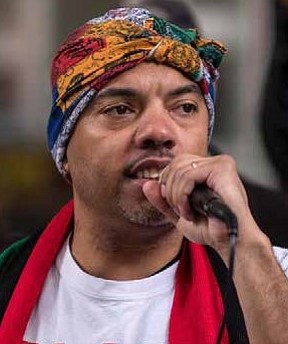 Drawing on the memory of Dr. Martin Luther King. Jr., who was killed 49 years
ago, thousands of workers, racial justice activists, elected officials and clergy waged marches, rallies, teach-ins and vigils Tuesday as two of the nation's most powerful social movements united in a "Fight Racism, Raise Pay" protest that echoed across two-dozen cities.
The protests stretched from Boston to Chicago to Los Angeles, culminating
in a march by thousands on the Lorraine Motel in Memphis, Tenn., where Dr. King
was killed April 4, 196 8 while supporting striking black sanitation workers. The
Rev. William J. Barber II, founder of the social justice movement Repairers of the
Breach; Service Employees International Union President Mary Kay Henry, who
has supported the Fight for $15 since the movement started nearly five years ago;
and the Great Talladega College Tornado Marching Band led the march through
downtown Memphis.
In downtown Chicago, hundreds rallied at Federal Plaza to honor Dr. King's legacy and to send a clear message that they're still fighting for the dream--$15 for Illinois and an end to racism. They also mounted protests over what they called, "Governor Rauner and President Trump's, anti-worker and anti-union policies." Fast food workers, Black Lives Matter activists, and members of Fair Economy Illinois held a brief press conference and spoke out about the injustices they're facing.
"This action is very personal for me and for my fellow fast food workers
because most of us are Black and Latina workers" said Parrish Thomas, a worker at Popeye's and KFC. "As a Black man, it 's inspiring to have seen Dr. King,
another Black man, se t the example for what's right.
It's important to make his dream come true by keeping the fight alive today.
Black Lives Matter Chicago's role in the press conference and protest,
proved how the movements for economic and racial justice are the same.
"Dr. King saw a common bond between the labor and civil rights movements and believed that union rights were fundamental to achieving racial justice" said Kofi Ademola, a BLM Chicago leader. "As King said in 1961, 'the two most dynamic and cohesive liber al forces in the country are the labor movement
and the Negro freedom movement. Together we can be architects of democracy.'"
Fast food workers disrupted traffic as they marched in the street, carrying a huge black, red and white banner that read "Still Fighting For The Dream, End Racism, Raise Pay, $15 for Illinois". A nearby McDonald's was the next location where they chanted about the burger giant being a key player and leader of the
economic and racial injustices workers are facing.
"McDonald's is a huge part of the reason we're fighting this fight. They're a billion dollar corporation that's getting away with paying us low wages and
forcing us to rely on government assistance" says Tarnerei Carter, a fast food worker at Domino's.
"When McDonald's changes its greedy ways, then so will Domino's and Popeye's and KFC and every other fast food corporation. They are the reason