Special Angel Pendant Just in Time for Easter
4/5/2017, noon | Updated on 4/5/2017, noon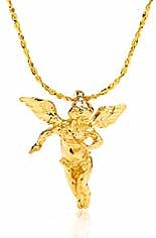 Special Angel Pendant Just in Time for Easter
Anyone who loves high-quality Religious Jewelry will be happy to learn that Lifetime Jewelry has just announced a special deal on their 24K Gold Filled Guardian Angel with Halo Pendant and Chain. This
small pendant has been designed to especially to appeal to women of all ages. With Easter not far away, this pendant and necklace is anticipated to be a popular gift item.
"We want you to buy it now to own it for a lifetime. This little Angel Jewelry pendant is very beautiful and we are delighted with the e¨orts our jewelers have put into creating this design," stated Mr. Alex King, spokesman for Lifetime Jewelry. "The design is very feminine and it appeals to young girls as well as adult women. As well as a popular Easter gift, this necklace and pendant is also often purchased to gift at Christenings, birthdays and other special occasions.
The angel pendant hangs with wings
extended and a halo around the head. It is a classic design and will hold significant meaning for the recipient of this jewelry item," added Mr. King.
The 24K Gold Filled Guardian Angel Necklace with Halo Pendant and Necklace is made in America. Lifetime Jewelry works together with skilled jewelers based in the United States who specialize
in working with high-end metals. Their ability to craft 24K gold with such precision has made this company's jewelry highly sought after throughout America and internationally.
At the heart of the 24K Gold Filled Guardian Angel with Halo Pendant is an alloy blend of semi-precious metals. This creates a hypoallergenic jewelry item with a superior bond to a thick coating of 24K gold. All jewelry items are backed by Lifetime Jewelry's 100%
unconditional lifetime guarantee for extra customer peace of mind.
More information about the 24K Gold Filled Guardian Angel with Halo Pendant and complementary Gold Filled Chain can be found on Lifetime Jewelry's Amazon.com storefront and their storefront.