IT'S TIME TO GET EXCITED ABOUT ROBOTS!
4/5/2017, noon | Updated on 4/5/2017, noon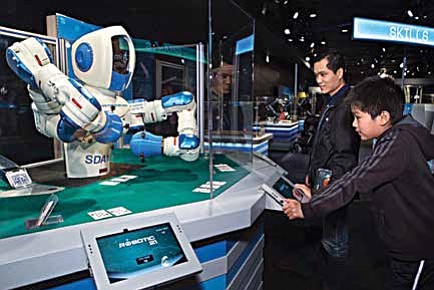 IT'S TIME TO GET EXCITED ABOUT ROBOTS! By Christopher Shuttlesworth
The Museum of Science and Industry (MSI), located on
5700 S. Lake Shore Drive, is celebrating the exciting field
of robotics during [the eighth annual] National Robotics Week Apr. 8-9 and 14-15, 2017. Guests can interact with
a number of robots including PARO®, the furry baby seal therapy robot, and Sphero, the speedy robotic ball, which guests can control with an app. Robots designed by Chicago-area students and amateur teams will be on display and guests can watch a live robotics competition as well. Other activities will include make-your-own robot antenna, discover your robot name, and more, according to msichicago.org.
"For the past several years, we've been exhibiting robots during National Robotics Week as well as our traveling exhibit, Robotic Revolution," MSI Director of Collections Kathleen McCarthy said.
"What we've found is that people just absolutely love robots. The robots sort of come to life and their engaging and people love to see these machines come to life and see what they can do."
McCarthy explained that Robotics is a fast-changing
field so MSI guests will see the newest robots that are
coming out of research labs and competitions.
"The purpose of the event is to celebrate the United
States as a leader in robotics technology development,
educate the public about how robotics technology impacts
society, both now and in the future, advocate for increased
funding for robotics technology research and development
and inspire students of all ages to pursue careers in robotics and other science, technology, engineering, and
math-related fields," according to nationalroboticsweek.
org.
McCarthy said MSI understands the importance of robots and how vital they will be to the future of citizen's daily lives so the museum's desire is to allow people in Chicago to experience and learn about this new technology.
She continued to say that as technology advances and
as everything becomes smarter, there will be more careers
in computer science and a greater need for computer scientists, especially with current self-driving cars and
refrigerators that send in grocery orders.
"I think it's really important for students to get introduced to the technologies that will be a part of their
future," McCarthy said. "They can think about it in terms
of how they live their lives and potential careers because
robots are going to be our companions, co-workers and
robots are a great way to learn about computing skills and
programming."
Other displays during National Robotics Week will be demonstrations from universities and after-school and hobbyist robotics teams. The Museum of Science and
Industry entry cost will be $18 for adults and $11 for kids
between the ages of 3-11, according to msichicago.org.