CITIZEN NEWSPAPER PUBLISHER WILLIAM GARTH, SR. DIES AT 78
9/28/2016, 4:49 a.m. | Updated on 9/28/2016, 4:49 a.m.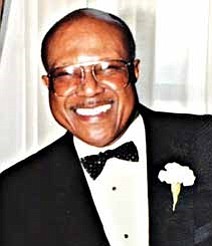 CITIZEN NEWSPAPER PUBLISHER WILLIAM GARTH, SR. DIES AT 78
William Garth, Sr., Chief Executive Officer of the Chicago Citizen Newspaper Group Inc. (CCNG) and Chairman of the Chatham Business Association (CBA) died on Friday, September 23, 2016. He was 78.
A pillar in the community, Garth led the Citizen with a steady hand and worked hard to make the news operation the largest Black owned ABC audited newspaper in the Midwest. Starting out as an advertising salesman for the Citizen, Garth lived the American Dream. After gaining recognition as a master salesman at the Citizen, he ended up owning the newspaper chain in 1980 when he purchased the business from Gus Savage, a six term Democratic congressman who represented Chicago's South Side.
The sale to Garth included the Chatham Citizen, Southend Citizen and the Chicago Weekend Newspapers.
Under Garth's leadership, the Citizen flourished. Between 1984 - 1987, Garth grew the newspaper chain when he added the South Suburban and Hyde Park Citizen Newspapers.


The Citizen was a business Garth nurtured and loved. He once said, "I've been good to the Citizen, because the Citizen has been good to me." He was right. With a current circulation of 112,000 newspapers and
a following of 400,000 readers weekly, the Citizen established itself as an important source for community news focused on the African-American market.
During the early years while the Citizen prospered, Garth remained close to his roots. For years, the Citizen operated from a storefront on 87th Street near King Drive, but as the business expanded, Garth moved on, but not too far away. Instead of opting for a lofty downtown office outside of the Black community, Garth stayed on Chicago's South Side where he purchased a 12,000 square foot building on 806 East 78th Street.
From the Citizen's new home, Garth established a not-for-profit foundation in memory of his late son, Quentis B. Garth, where he served as chairman. Through the QBG Foundation, the organization helped over 49 students and disbursed over $1 million in scholarship awards to disenfranchised, inner city youth in the Chicagoland area.
During his lifetime, Garth instinctively understood the importance of passing on the torch to the next generation of leaders. In essence, this was the purpose of the foundation. It's no wonder that one of the numerous awards Garth received was the opportunity to carry the torch in Chicago during the 2002 Olympic Torch Relay. It was one of many local and national awards and honors he received during his lifetime.
Garth's son, Darrell Garth, president and publisher of CCNG, was thankful for the support he and his family received from members of the community. "The family would like to express our deepest gratitude and thanks for your prayers, cards, flowers, kind gestures, sympathy and show of support as we mourn the loss of my father. The overwhelming response from members of the community who expressed love, care and concern
during this difficult time is greatly appreciated."
Garth was just as passionate about Black entrepreneurship as he was about helping young people. Through the Chatham Business Association (CBA), a business resource center offering an array of customized services and programs designed to assist businesses, he worked tirelessly to lead and guide the developments