CHA'S Gene Jones Honored
9/28/2016, 4:57 a.m. | Updated on 9/28/2016, 4:57 a.m.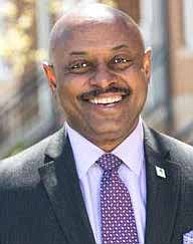 CHA'S Gene Jones Honored
Eugene "Gene" Jones, Chief Executive Officer for the Chicago Housing Authority, is being honored for his commitment
to community sustainability by Holsten Human Capital Development (HHCD) not for profit, at Loyola University's Kasbeer Hall. The Holsten Human Capital Development (HHCD) Annual Community Sustainability Awards were established to honor individuals who have played a significant role in building healthy communities in the City of Chicago.
Jones is directly responsible for implementing CHA's extensive redevelopment program of public housing and continuing the agency's mixed-income-focused strategic initiative - Plan Forward - to help build strong, vibrant communities throughout Chicago.
He has more than 35 years of service and experience in housing operations, resident services, accounting and finance, auditing, maintenance, new construction, capital construction and Housing Choice Voucher programs. Jones held previous key roles at various housing authorities across the country and in Canada. He is credited for turning around numerous troubled housing authorities to either a standard or high performance.
The event will be held on Thursday, September 29th, at Loyola University's Kasbeer Hall (25 E Pearson, Chicago) from 5:30
– 7:30 pm. Drinks and appetizers will be provided, as well as live entertainment by singer Terisa Griffin, who was a finalist on The
Voice! Complimentary parking available adjacent to the YMCA at 30 W. Chicago Ave. Tickets are $100 and may be purchased online at hhcd.org. To purchase your tickets by phone, or for any questions, please contact Sharon Wilson: 312-274-9122 or rsvp@ holstenchicago.com.