VALUING BLACK LIVES CONFERENCE CONVENES IN WASHINGTON
9/13/2016, midnight | Updated on 9/13/2016, midnight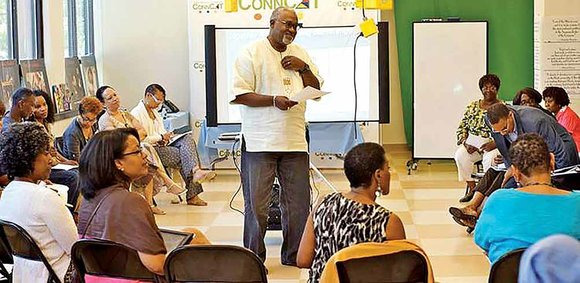 VALUING BLACK LIVES CONFERENCE CONVENES IN WASHINGTON
By Safiyyah P. Muhammad
The Community Healing Network (CHN) will host Valuing Black Lives 2016: The Second Annual Global Emotional Emancipation Summit on September 15th -16th in Washington, DC. According to a Valuing Black Lives press release, the summit will bring together Black grassroots activists from around the world as well as representatives of national and international organizations to develop strategies that overturn the root causes of the devaluing of Black lives.
"This summit is for Black people all over the world, because colonialism just happens to be all over the world," said Al Gentry, Committee Chairperson of Valuing Black Lives summit.
"The exciting thing about this year's summit is that the United Nations, which is invited to attend, recognizes that there are some major hurdles that Black people face," Gentry added.
CHN Gentry is collaborating with The Association of Black Psychologists to compile a 127- page guidebook on the Emotional Emancipation Circle.
The Emotional Emancipation Circle guidebook is an educational tool designed to unify black people as they come together in groups. "The Emotional Emancipation Circle brings about the advocacy and flourishing of black people around the world. One of the goals of the circle is to eradicate black inferiority," Gentry said.
During the 2016 Summit, CHN hopes to explore and develop cutting-edge strategies for taking control of telling black people's stories.
Valuing Black Lives is inviting leaders from across the African Diaspora to be a part of the event. The organization is looking for people who are committed to confronting the root causes of the challenges black people face around the world.
Confirmed panelists include Mireille Fanon-Mendes from France; Kleaver Cruz, activist; Esther Armah, political commentator; Jessica Gordon Nembhard, Professor of Africana
Studies; Wekesa Madzimoyo, Allen Kwabena Frimpong, member of Black Lives Matter in New York; Ibram X. Kendi, Professor of History, University of Florida; Zakiya Sankara-Jabar, Racial Justice NOW; and Isis Amlak, from Trinidad.
Other panelists include a member of the Global Afrikan Congress in the United Kingdom and a UK consultant for the European Network for People of African Descent.