We Must Support the Freedom- Fighting Legacy of George E. Curry in the Black Press
9/7/2016, 4:47 p.m. | Updated on 9/7/2016, 4:47 p.m.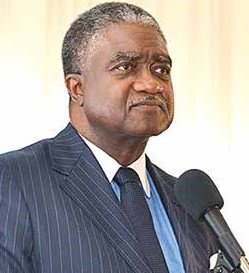 Commentary
We Must Support the Freedom- Fighting Legacy of George E. Curry in the Black Press
The freedom struggle and Civil Rights Movement of Black people in America and throughout the world have lost another courageous, iconic, freedom fighter, journalist and leader. The National Newspaper Publishers Association (NNPA) salutes, respects, and supports the freedom-fighting legacy of George Edward Curry.
NNPA publishers, editors, journalists, and photographers from across the nation attended the "Celebration of Life" home-going service for George Curry in Tuscaloosa, Alabama at Weeping Mary Baptist Church on Saturday, August 27, 2016. George at the age of 69 died from heart failure on August 20, 2016 in Takoma Park, Maryland.
George Curry was our beloved Editor-In-Chief of the NNPA News Wire Service and after decades of outstanding contributions and service to the Black Press in America, George evolved to be admired by fellow journalists as the "Dean of Black Press Columnists." As a foot soldier in the Civil Rights Movement in the 1960s, I personally have been blessed to have known and worked with George Curry as a fearlessly effective freedom fighter.
If I could find one word in the English language to describe the professional and brotherly tenacity of George Curry, it would be "courageous." He used his pen and his wit to openly challenge injustice in the face and presence of oppression. George had the courage to both write and speak truth to power without compromise of principle or ethics.
Reverend Jesse Jackson and Reverend Al Sharpton both travelled to Tuscaloosa to pay tribute and to eulogize the memory and legacy of George Curry. Rev. Jackson affirmed, "George was a freedom fighter." Dr. Charles Steele Jr, President of the Southern Christian Leadership Conference (SCLC), also a native of Tuscaloosa and lifelong friend of George paid tribute to Curry's leadership and activism as a "freedom movement" journalist.
In the eulogy rendered last Saturday, Rev. Sharpton said that, "George never knew he was much more of a minister to me than I ever was to him… George Curry not only helped to mentor and bring along students and the next generation, but he also did it to many of us that you see out there on the front line." Sharpton concluded that Curry was "part of a long tradition, but he was one of a kind."
Roland Martin, accomplished news anchor for TV One and former editor of the Chicago Defender, as well as a lifelong colleague of George Curry, passionately stated, "There was no newspaper, no magazine George Curry could not have worked for, but he chose to work in Black media…He chose to do that, because he said there has to be an independent voice that is unapologetic, that thinks about Black people from the moment they wake up to the moment they go to sleep."
The passing of George Curry now raises the question of "Who will take his pen?" Who will step forward to keep the freedom-fighting legacy of George Curry alive today and into the future? Before George died, he had established EmergeNewsOnline.com. The NNPA supports George's legacy and we encourage everyone to support Emerge News Online to ensure that what George envisioned and worked hard to establish will continue to grow and be successful in the marketplace.