EBONY Magazine's Fashion Issue Features Alicia Keys
9/7/2016, 4:53 p.m. | Updated on 9/7/2016, 4:53 p.m.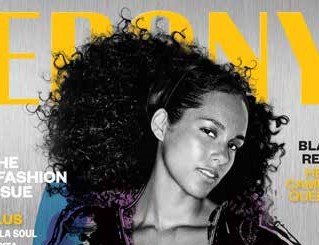 EBONY Magazine's Fashion Issue Features Alicia Keys
CHICAGO - Alicia Keys tells EBONY she doesn't believe in being "flawless," yet on the set of the September Issue shoot, the 15-time Grammy® Award-winning music artist, philanthropist and judge on the new season of NBC's The Voice proves she's still a girl on fire. The fresh-faced star posed perfectly in futuristic attire while maintaining her dedication to the #nomakeup movement.
In EBONY'S exclusive interview, the incomparable entertainer gives updates on her upcoming and highly anticipated album. In addition to giving insight into her career moves, she holds court on an assortment of hot-button topics, including raising Black boys in the era of #BlackLivesMatter.
"We are at a tipping point for major change. Senseless killings are outrageous and unacceptable. It's like a slap in the face. It's a constant reminder that our lives—our Black lives—are literally meaningless," Keys says. She also talks about self-confidence and the cruelty of social media. Her viewpoints are especially relevant as Twitter trolls attack the #blackgirlmagic of Olympians Simone Biles, Gabby Douglas and Simone Manuel.
"Alicia Keys is one of the artists I respect most because of her dedication to social justice and desire to go beyond lip service to make the world a better place," says Editor in-Chief and Senior Vice President of Digital Editorial Kyra Kyles. "Her commentary on race, class and gender were illuminating, and she shared some sentiments with us that you will see few other places."
The issue also reveals the winners of EBONY's annual Beauty Awards and trendsetting tips from "It"-girl group Chole x Halle. Look out for coverage of actress Lupita Nyong'o, hiphop icons De La Soul and the multitalented Donald Glover aka Childish Gambino. And this edition would not be complete without one of EBONY's favorite time honored traditions, the HBCU Campus Queens, where they highlight over 50 of the lovely, talented and community-oriented young ladies who represent historically Black colleges and universities across the country. Check out EBONY'S September issue on newsstands now, and visit EBONY.com for behind-the-scenes videos. Join the conversation on social media via #AliciaOnEbony.