POPULAR WRIGHT BUS TOUR EXTENDED INTO NOVEMBER AND DECEMBER
10/11/2016, midnight | Updated on 10/11/2016, midnight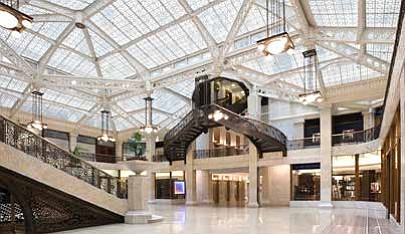 POPULAR WRIGHT BUS TOUR EXTENDED INTO NOVEMBER AND DECEMBER
(Chicago) – Frank Lloyd Wright made his indelible mark in the Chicago area, where he lived and worked for the first 20 years of his career, and the Wright Around Chicago guided bus tour covers the best of Wright's Chicago. This popular seasonal tour by the Frank Lloyd Wright Trust has been extended and will be offered on Saturdays only from Nov. 5 to Dec. 17, except Dec. 3.
In addition to visits to The Rookery lobby, which Wright remodeled in 1905, and Wright's Oak Park Home and Studio, Wright Around Chicago includes a comprehensive tour of the Frank Lloyd Wright-Prairie School of Architecture Historic District in Oak Park. The group will stop for lunch at Winberie's, a popular Oak Park restaurant before heading to Chicago's Hyde Park neighborhood to see Wright's masterpiece, the Frederick C. Robie House.
The Frank Lloyd Wright Trust is a Chicago-based not-for-profit organization that provides public tours and educational programs at major Wright-designed structures, including his Home and Studio (1889/1898), in Oak Park, Ill.; The Rookery Light Court (1905) in the Chicago Loop; Unity Temple (1905-08) in Oak Park; the Frederick C. Robie House (1908-10) in Chicago's Hyde Park neighborhood; and Emil Bach House (1915) in Chicago's Rogers Park neighborhood. For more information, visit flwright.org.
A ticket to the Wright Around Chicago guided bus tour is $150 and $125 for Frank Lloyd Wright Trust members. For information and tickets, visit cal.flwright.org/tours/ WACbustour or call 312.994.4000. University of Chicago Medicine Announces Inaugural Community Advisory Council
The University of Chicago Medicine (UCM) recently announced the creation of its inaugural community advisory council (CAC). The CAC will seek community input on health issues of importance to its primary service area and surrounding communities.
The application for the CAC was publically circulated among community groups, social media and earned media channels, resulting in 118 applications from community stakeholders across the South Side of Chicago.
"We know our communities' interests and concerns span many issues and needs, and we wanted our advisory council to have the expertise and varied perspectives to help us respond to those needs," said Brenda Battle, Chief Diversity Officer and Vice President of Care Delivery Innovation at UCM.
Response to the application was so great that organizers increased the size of the council from an original intended size of 15 to 20 members.
The council is expected to begin meeting later this fall. At that first meeting, the group will determine its bylaws and official processes. In the months following, the group's responsibilities will include providing input and advice to UCM regarding priority health and social determinant challenges. The CAC will be charged with developing and staffing sub committees intended to address adult health, maternal and child health, and trauma care and violence prevention challenges.