WALKING FOR A CAUSE IN GLENWOOD
10/4/2016, midnight | Updated on 10/4/2016, midnight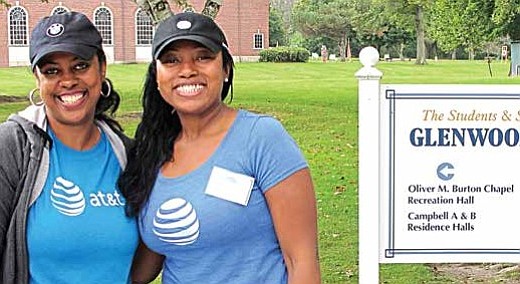 WALKING FOR A CAUSE IN GLENWOOD
By Safiyyah P. Muhammad
While the end-of-summer weather issued mild temperatures across Chicagoland on Saturday, September 17th, walkers and joggers alike took advantage of pleasant conditions to participate in Glenwood Academy's 2nd Annual 5K Walk, held in Glenwood, Illinois. "It was a perfect day with beautiful weather. It was a great turnout, and everyone had a good time.
We are looking forward to the 2017 walk," said Lona Slaughter, Special Events Manager at Glenwood Academy.
Slaughter said more than 150 people attended the second annual walk to help support social and educational needs for the south suburban community. "Each year, Glenwood Academy serves over 150 children and their families providing exceptional educational opportunities, residential living, family support services, and advanced extra-curricular training," she said.
Slaughter further explained the purpose of hosting the annual walk. She said, "The event serves as our signature family fun walk and festival that brings together our entire community. Students and their families, the Glenwood Academy staff, neighbors, and community members raise funds to enable us to forever change the lives of our students, enhance the lives of their families, and improve the fabric of their communities. Glenwood Academy eradicates inequity, injustice, and poverty through the power of education."
According to Slaughter, Glenwood Academy was founded in 1887 by Oscar L. Dudley and Robert Todd Lincoln, son of President Abraham Lincoln, with the mission to provide dependent children in Illinois with a training school and protective shelter. In 1890, Milton George donated his 300-acre farm in Glenwood, Illinois, where the campus still thrives today. Since its founding, Glenwood Academy has evolved to become an educational placement of choice that pays homage to the structure it was founded upon. For nearly 130 years, Glenwood Academy has served more than 18,000 deserving Chicagoland students.
The festival featured food and drink vendors (such as Porkchop, Jerk World, El Sirloncito, and Daisy's Fresh & Fruity), a DJ, face painter, balloon artist, Zumba, activities and games including a Cornhole tournament, raffles, and more. Slaughter said that all proceeds benefit the students and families of Glenwood Academy. According to Slaughter, Glenwood Academy is a 501(c) 3 non-profit organization which nurtures and educates good kids from challenging situations by inspiring excellence, building character and strengthening community.
"Plans for the Glenwood Academy's 3rd Annual 5K Walk are still being worked out," Slaughter commented. "Committee members are hopeful that next year's walk will be an even greater success. I just want everyone to know that here at Glenwood Academy, we are fighting poverty, injustice, and inequality through education and we are so grateful to all those who came out to support us in our efforts."
Slaughter said that it is her hope that participants will feel a sense of community pride in regards to their support for the students and the mission of Glenwood Academy. South Suburban communities including Glenwood, Homewood, Flossmoor, Chicagoland and Northwest Indiana took part in the event.