OVERCOMING THE STIGMA OF HIV/AIDS
10/4/2016, midnight | Updated on 10/4/2016, midnight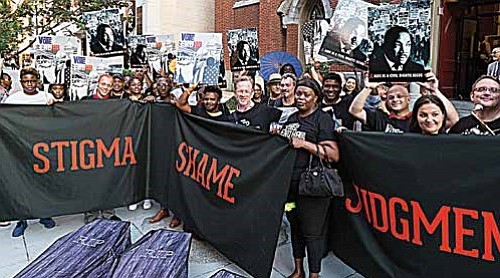 OVERCOMING THE STIGMA OF HIV/AIDS
By Safiyyah P. Muhammad
The AIDS Healthcare Foundation (AHF), known as the largest global AIDS organization worldwide, sponsored a number of community events at the Congressional Black Caucus Foundation's 2016 Annual Legislative Conference (ALC), held September 14-18. The foundation addressed the quiet, yet growing AIDS epidemic in the Black community. The organization hosted a march from McPherson Square in Washington and later, it held a town hall meeting at the Metropolitan AME Church, a historic faith institution, where Frederick Douglass attended church services. us," said Imara Canady, chairperson for AHF and the Black AIDS Crisis Taskforce
(ABACT). "One of the things we discovered is that when it comes to the African-American community, many of us are not even aware that there is an AIDS epidemic," he said.
To help the Black community understand the AIDS crisis, one of the goals of the organization is to create a coalition of African- American health advocates to promote sexual
health and to create an outreach program in the African-American community on the HIV/
AIDS epidemic, an AHF press release stated. "AIDS were once a white male disease back in the 80's, today the African-American community is greatly impacted by this disease. Although African-Americans make up 13% of the population, over half of U.S. AIDS cases are mostly found in the African-American community," Canady said.
According to Canady, shame and denial of contracting the disease causes many African-
Americans to go without treatment. He added, "We must overcome the stigma and judgment of having AIDS and not concern ourselves with what other people think. As a community,
everyone needs to know their HIV status."
Canady said that there is a need to put healthy and holistic sex education back into
the classroom. He stressed that there is a need for parents to talk to their children about sex. "This needs to come from the home, school and community programs that are willing to address the HIV crisis."
Speakers who participated in the Monday, September 12th town hall meeting at the
Metropolitan AME Church delivered a call to action, inviting the community and Black leaders to join together to take control of the AIDs epidemic. Judge Glenda Hatchett moderated the event. The event was titled, "AIDS Is A Civil Rights Issue.
"I want to applaud Congresswomen Robin Kelly (D-Illinois) and Barbara Lee (D-California) for their leadership role around HIV/AIDs as it relates to African-American women and girls. Our communities can really begin to make a difference when our politicians are involved," he said.
Canady added that HIV is a preventable disease and that Blacks must know their HIV status, especially African-Americans living in heavily populated urban areas, where HIV is prevalent (although rural areas are also impacted by HIV). "If you test positive for HIV, you can go through a simple process of getting the medical help you need. You will take one pill as opposed to taking 12-15 pills. We need to love ourselves and take care of ourselves and overcome the stigma, shame and judgement centered around HIV."