Share Your Soles Foundation Holds Fundraiser to Help Haiti
11/22/2016, midnight | Updated on 11/22/2016, midnight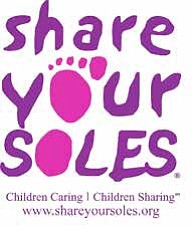 Share Your Soles Foundation Holds Fundraiser to Help Haiti
While you might not think your gently worn shoes have
much value, for one Chicago citizen they are a global passport. Gently worn/new shoes have sent Mona Purdy to some of the worlds most remote regions, but never into the lap of luxury. For almost two decades her Share Your Soles Foundation has "shared" previously owned footwear, making deliveries to various economically depressed areas.
Not limiting themselves to global travel, Share Your Soles
also organizes fundraisers and awareness campaigns with 100% of the proceeds going to the designated citizens. The latest of these campaigns has to do with Haitian relief. In the wake of Hurricane Matthew, Haiti was battered to devastating effect. Widespread flooding, crime and disease continue to plague the country.
On Sunday, November 20th Share Your Soles hosted a musical event aimed at easing some of the recent suffering which has been inflicted upon Haiti. The event, entitled "Help for Haiti" featured a cadre of internationally recognized, Chicago-based talent and was held at Reggie's (2105 S. State Street.)