AUNT MARTHA'S OPENS NEW PRIMARY HEALTH CARE FACILITY IN ROSELAND
11/22/2016, midnight | Updated on 11/22/2016, midnight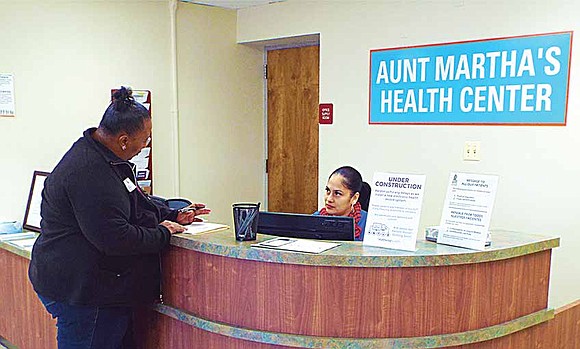 AUNT MARTHA'S OPENS NEW PRIMARY HEALTH CARE FACILITY IN ROSELAND
By Safiyyah P. Muhammad
Residents in the Roseland community can now go to a brand new primary health care center, instead of making unnecessary emergency room visits, thanks to partners such as Aunt Martha and the New Roseland Community Hospital. The clinic recently opened at the New Roseland Community Hospital, at 45 W. 111th
Street on hospital 3rd floor.pregnancy."
It is a common occurrence that patients sometime cannot clearly determine whether they are experiencing a true medical emergency and rush themselves Emergency Department (ED)
to find out that their visit was not life threatening. Tom Owens, vice-president, Communications & Development for Aunt Martha's said, "When we're faced with an illness or an injury, there's often a sense of uncertainty about what to do or where to go for care, especially if the symptoms seem severe or our doctor's office is closed.
Because every person and every situation are unique, it's difficult to create a hard and fast list of symptoms or conditions that should or should not be addressed in an emergency department. If you have a medical home, you can never go wrong by making that your first stop; but, when in doubt, trust
your gut. If you believe it's serious, please do not hesitate. Go to the nearest emergency room or pick up the phone and call 911."
Pennington points
out that an Illinois Department of Public Health report shows
that Emergency Department visits in the Roseland Community were 50 percent higher in comparison to the overall
statewide rate.
Owens said, "There is no single factor that can be pointed to the reason for the volume of unnecessary ED visits in the Roseland community. It's likely a combination of access and awareness.
We're doing what we can to increase access, the availability of services. With our move into the New Roseland Community Hospital, we're able to expand the services we offer to include primary care, women's health, family planning and pediatrics, which we'll have on-site in early 2017. Of course, people
will only come to our health center if they know it's there. That's one of the reasons our partnership with the hospital is so important, and it's why our community health care workers and outreach staff will be going out to talk about our services and build partnerships with the schools, churches and other organizations that are the backbone of the community."
Owens offered an explanation
and shared the difference between what is called primary care and the emergency care. He said, your medical home, or your primary care provider helps you manage your overall health. This is where you go for common illnesses, minor injuries and things like immunizations or physical exams. The biggest difference between a medical home and the emergency department is that the care team at your medical home
knows you and they know your medical history. That means they have all of the information necessary to help you make the best decisions about your care. Emergency care is for serious
medical conditions that are life-threatening, like a heart attack,
stroke, serious head injuries, potential fractures, or injuries sustained motor vehicle accidents.
Pennington stated that in the clinic's first year of operation,
they expect to serve about 2,700 primary care and women's health (OB) patients, including patients with chronic illnesses like diabetes and asthma. Pennington also added that Aunt Martha's has been providing health care services to the Roseland
community since 2012.
"We've got to teach people how to work with the health care system, to reframe the way they think about
health care. Over time, as more and more patients are connected to a medical home – at Aunt Martha's or elsewhere – there will be a decline in unnecessary ED visits. That
decline will come as a result of patients understanding how to
work with the primary care team at their medical home," Owens
said.
Owens added that Aunt Martha's operates eight (8) other
health centers in Cook County and a total of 19 clinics in eight (8) counties across Illinois.