Hip Hop Hall of Fame Adds Hotel, Retail, & Performance Venue
11/16/2016, 6:53 p.m. | Updated on 11/16/2016, 6:53 p.m.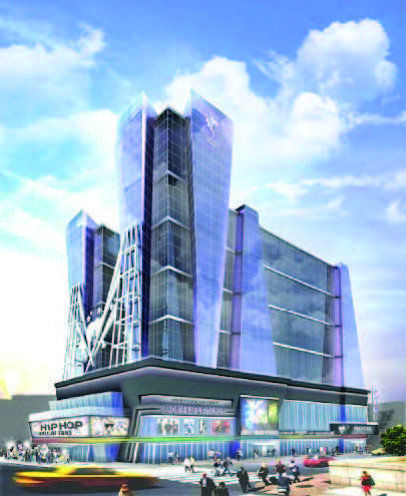 Hip Hop Hall of Fame Adds Hotel, Retail, & Performance Venue
After two decades of development, the Official Hip Hop Hall of Fame ("HHHOF") is poised to become "the Hip-Hop institution of record for the 21st century," as reported in Billboard Magazine. The
organization kicks off November 2016'Hip Hop History Month' by
unveiling its long awaited 'State of the Art' Hip Hop Hall of Fame +
Museum & Hotel Entertainment Complex design concept for its Manhattan location in New York City. The Hip Hop Hall of Fame was Established in 1992 by Founder J.T. Thompson, who created and executive produced the first Hip Hop Hall of Fame Awards Induction Ceremony & Concert on the BET Cable Network in the 1990's to be the annual fundraising catalyst for the establishment of a Hip Hop Hall of Fame Museum in New York City; modeled after the Rock n Roll Hall of Fame Museum which produced 20 years of awards shows before eventually opening their Museum in Cleveland, Ohio.
The Hip Hop Hall of Fame + Museum and Entertainment Complex vision of the design concept is to include the Hall of Fame, Museum, 5 Star Hotel, Retail Stores & Gift Shop, Arcade, TV Studios, Sports Bar, Restaurant & Concert Lounge with a goal of serving up to 1,000,000 local, national, and international visitors annually including music fans, tourists, students, culture enthusiasts, and families on
educational & entertainment excursion tours. The facility will produce permanent and part time jobs, provide valuable internships and community volunteer opportunities, with a goal to host up to 150+ live events, shows, concerts, and educational programs annually for people of all ages.
Baron Davis, Two-Time NBA Star, Entrepreneur, Launches New Start-up- The Black Santa Company
Los Angeles – Baron Davis, the two-time NBA All-Star and
entrepreneur, has launched The Black Santa Company, a start-up
company to promote positive role models with the aim to inspire and
entertain the African American audience – and the world.
"This is a character-focused company that I want to use to
expand people's imaginations," said Davis, a product of South
Central Los Angeles, where he credits his success to sports, film, great cartoons and a vivid imagination. "We live in a world that needs a constant reminder of hope and positivity, particularly
in neighborhoods like where I grew up. I want to give people the ability to dream and imagine something different. I want to
make people feel good about themselves."
The Black Santa Company offers contemporary twists to traditional characters for a world that is becoming increasingly
diverse. Davis intends to serve the roughly $100 billion Christmas
market for African Americans, which despite its size is still underserved. The company's initial product suite will offer a range of
products, including ornaments, wrapping paper, as well as limited
apparel.
Beyond the holiday season, people will be able to engage with
the brand through social media and video content, highlighting
positivity and good in their communities. The company will
offer relevant content, characters, and product year-round,
starting with its the campaign #GivingHasNoSeason.
"With all that's going on in this country, and particularly in
the African-American community, I want to offer heroes and role
models through storytelling. Black Santa is the first character. His
mission is to celebrate diversity, the joy of giving and the magic of good. He's here to bring people together and have fun. So while I may not be making moves on the basketball court now, The Black Santa Company is my new basketball."