Program encourage homebuyers to choose Woodlawn
5/25/2016, 2 p.m. | Updated on 5/25/2016, 2 p.m.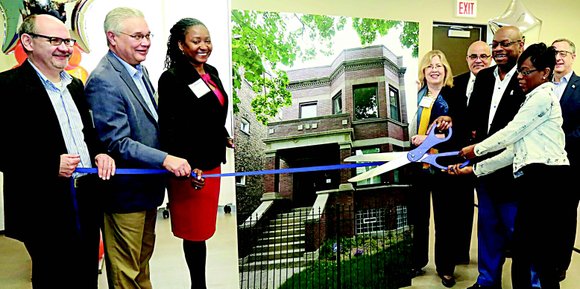 Program encourage homebuyers to choose Woodlawn
By Craig G. May
At a symbolic ribbon cutting ceremony on May 14, to celebrate the first home closing under the Renew Woodlawn Homeownership Program, Woodlawn community and city leaders, launched the initiative that provides incentives to purchase a home in the South Side's Woodlawn neighborhood.
Renew Woodlawn is funded by the U.S. Department of Housing and Urban Development, the National Foreclosure Settlement Awards and the City of Chicago.
Three Chicago nonprofits that specialize in affordable housing have partnered with the city of Chicago Department of Planning and Development (CDPD) on the program and they are Preservation of Affordable Housing (POAH); Neighborhood Housing Services of Chicago Inc. (NHS); and the Community Investment Corporation (CIC).
Renew Woodlawn plans to assist 20 prospective homebuyers in the community by the end of September 2017. Prospective homebuyers can get incentives to purchase and rehabilitate homes -- including grants for down payments and other assistance. The target area is bounded by 60th St. north to 67th St. south and King Drive west to Stony Island Ave. east. Saturday's "ribbon cutting" celebrated the closing of a two-flat building that is the first home acquired under the program.
"Our goal is to see Woodlawn renewed as a healthy urban 'neighborhood of choice' that can attract households and businesses with geographic options," said Bill Eager, Vice President POAH Chicago Area.
"We are pursuing property redevelopment and reinvestment, infrastructure improvements, employment services and supports and investments in community institutions," he said.
With the possibility of President Barack Obama's presidential library being located in Woodlawn, the people and organizations that have long worked to revitalize the once lively and prosperous neighborhood could see a positive return on investment for their dedication to the community.
Woodlawn has assets that make it a prime target for redevelopment: It is on the lakefront, boarding the University of Chicago and bracketed by parks and public transit.
"You can't find a neighborhood with a higher potential upside than Woodlawn," NHS President and CEO Kristin Faust said. "Our program will help keep it moving on that upward trajectory by bringing in new homeowners – those with long-time ties and those who want to build new ties with Woodlawn. Everyone will participate in making the renewal happen. We know that preserving, rehabbing and investing in housing helps build a community and this project is doing that."
Some of the considerations in revitalizing a neighborhood, according to NHS, include creating a range of housing choices for mixed incomes; having walkable, close-knit communities; having residents involved in development decisions; and fostering a broad range of transportation options.
Woodlawn is not without its obstacles: per capita income is $19,000 annually, a full $10,000 below Chicago's average of $29,000. Woodlawn joblessness is at 17-percent while decades-long efforts to redevelop acres of vacant lots have been met with marginal success.
"We are responding to the directions that the community has given us and Woodlawn is rising," said 20th Ward Ald. Willie B. Cochran. "Those directions call for collaborations, leveraging resources, addressing social service needs, education, safety, economic development and housing just to name a few," he said.