Pastor John F. Hannah
5/25/2016, 2:03 p.m. | Updated on 5/25/2016, 2:03 p.m.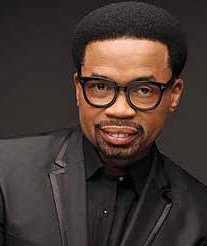 Profile
Pastor John F. Hannah
By Craig G. May
John F. Hannah, Senior Pastor at New Life Covenant Church Southeast, is a man on many missions. One of those missions includes," Prayer On The 9," an ambitious protest that has now entered it's sixth year. The most recent event occurred this past Saturday.
During the event, Hannah, his congregation and a host of anti-violence supporters fill the streets between the corners along 79th Street from Greenwood Ave. west to the Dan Ryan. Their mission---to peacefully protest the need to stop the violence in Chicago.
"It's time for clergy, church members, organizations, students, teachers and community leaders to step out of the boundaries of their four walls to come out and pray for the problems of the community, Hannah says. But Prayer On The 9" is not Pastor Hannah's first direct involvement in helping reform the lives of black people in the community.
Before receiving his calling, an event he describes as "the greatest joy" of his life, Pastor Hannah made a career of changing lives early on.
After receiving his Bachelor of Arts degree in criminal Justice from Alabama State University, he served as a Juvenile Probation Officer in Cook County where he impacted the lives of young adults.
Hannah was also able to make an impact as a youth Pastor for a local church for many years. Evangelizing with a focus on urban youth for years also created opportunities to perfect his calling as the shepherd of a remarkable organization that would later become New Life.
Additionally, Hannah is the previous Executive Director of the Inner-City Youth Spring Break Conference (IYSBC), which under his leadership grew exponentially.
In addition to his role as the Senior Pastor of New Life Covenant Church, he shared his talent in the name of Jesus when he hosted a daily morning radio program on WGRB AM in Chicago for 13 years. The show, entitled "The John Hannah Morning Show" aired on Inspiration 1390AM and was the #1 rated gospel radio program in the country. Additionally, Hannah is the recipient of the Stellar Award for Gospel Radio Announcer of the Year.
Pastor Hannah says he lacks a strong sense of self-centeredness and that claim is evidenced both through his easy-going approach to strangers as well as his disarming approach with the young people to whom he ministers.
"I am able to work well with young people because I'm relatable, approachable, touchable. I don't believe the hype about myself and that keeps me accessible and gives me relatability with young people," he says.
While he was never shy as a public speaker, Pastor Hannah does admit that he brought with him a few butterflies when he first started preaching. It wasn't the act of speaking itself that gave him the jitters, but it was more about what speaking from the pulpit means, he explains.
"I'd never had the responsibility of feeding God's people. That is a great responsibility,
(knowing) that faith comes by hearing and hearing by the word. I have a responsibility of feeding these people spiritually and building their faith up," he says.