Illinois Service Federal Savings and Loan Acquired by Nduom Family
5/18/2016, 2:55 p.m. | Updated on 5/18/2016, 2:55 p.m.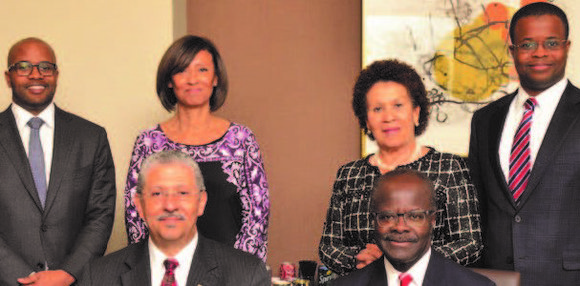 Illinois Service Federal Savings and Loan Acquired by Nduom Family
By Monique Smith
In 1994, there were 54 black-owned banks in this country, according the FDIC (Federal Deposit Insurance Corporation) and just 22 years later, there are only 21 remaining. These 21 banks have a total of $4.7 billion dollars in assets, but only count as 0.43 % of the $1.1 trillion in black buying power. Illinois Service Federal Savings and Loans, 4619 S. King Dr., has served the African American community since the 1934.
ISF was established in the Bronzeville community during the Great Migration, a time in history where blacks from the South moved to north to Chicago and other northern regions in an effort to escape segregation. Being north didn't rid blacks of their limited economic opportunities, so community members and leaders at that time decided to join together and establish their own banks. Banks that would serve their interest and years later like so many other black owned banks, ISF faced the possibility of closure until an invest group came in and acquired it.
Many Americans can recall the 2008 economic downturn and the threat of the country being on the brink of financial collapse, the housing marketing in the tank and banks on the brink of ruin creating the unforgettable term 'too big to fail'. Banking institutions like ISF are CDFI's. The term stands for Community Development Financial Institute. CDFI's are mission-driven financial institutions that create economic opportunity for individuals and small businesses, quality affordable housing, and essential community services throughout the United States.
Monica Thomas, Vice President and Community Banking Officer at ISF said the bank started experiencing difficulty in late 2007 going into 2008. "That's when we began to see the effect on our balance sheets," she said. Winning prestigious banking awards like the Bank Enterprise award which is a monetary award given to banks for their exceptional lending practices wasn't enough to secure its financial standing and keep the doors open. Towards the end of the collapse, ISF was given the directive to start raising capital and seek out potential investors. What about the big government bailout? ISF did receive some assistance but like the community it serves it was still strained. "When your intent on serving your customers, their struggle is your struggle," said Thomas.
Groupe Nduom is a Ghanaian family-run investment group with personal and professional ties the Midwest. Dr. Kwesi Nduom, who wasborn in Ghana West Africa, received his Bachelors, Masters and PhD from the University of Wisconsin. Dr. Nduom and his family lived in the Midwest for several years before moving to the Washington, DC area. In the early 1990's they moved back to Ghana. He and his wife, Mrs. Yvonne Nduom along with two of their four children, N. Kweku Nduom, Vice president, Business Development and Finance and P.W. Chiefy Nduom, Vice President and General Counsel for the company make up Groupe Nduom. Their investment portfolio consists of various business enterprises including tourism, media, financial services, sports and real estate. "We were looking to get into banking in the U.S. when the opportunity with ISF presented itself and though it was a great opportunity to preserve a great institution," Kweku Nduom went on to say, "Chicago also has a great Ghanaian community." He has said the investment group will manage ISF Bank from afar, but he along with the other family members that make up Groupe Nduom, will be in Chicago on a regular basis to check on their investment.
Both the banks vice president and the Nduom family have said they have no plans to make changes in the personnel at ISF and want to help continue serving the community in the most professional and courteous manner possible. On the partnerships, both parties are enthused about what the opportunity can bring. "Our family is really excited about the opportunity to extend and expand the influence of such a historic institution in the community it was designed to serve" said Nduom. Ms. Thomas, who is also excited about the partnership said, "ISF has had a long standing legacy of being on the right side of history and I think this partnership with the Nduom Family is history in the making." ISF currently has two locations, the original branch in Bronzeville and one on 8700 S. King Drive in the Chatham community.