South Suburban teen Works to Change the World One Community at a Time
5/11/2016, 1:11 a.m. | Updated on 5/11/2016, 1:11 a.m.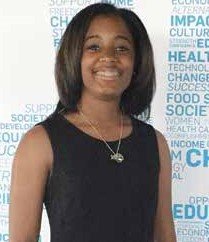 South Suburban teen Works to Change the World One Community at a Time
By: Tasha L. Clopton
Glenwood resident Destiny, 17, is, in many ways, your typical teenager. The South Suburban senior is on her way to college and she's making big strides right now in her community. She spends time with her family and hosts her friends, and is, admittedly, always on her iPhone. More than that however, she's a community activist, intent on changing the world around her – one community at a time.
Destiny is the founding president of You Matter 2, a philanthropic youth organization dedicated to raising awareness of local and global issues like poverty, hunger, and bully prevention. "We're trying to break down the stereotypes of teenagers," she beams. On May 10, You Matter 2 hosted On the
Table, sponsored by the Chicago Community Trust. It was an opportunity for community groups to sit down over a meal and discuss unifying and bettering the communities. They are the youngest philanthropic group to host the annual event.
Destiny's work began with an interest in We Day, a traveling celebration of youth philanthropy. Students can't buy tickets to the celebration. Instead they must earn their way by performing one local and one global act of service. "When I found out We Day was coming to Illinois and our school wasn't really doing anything for us to go, I started my own group." Destiny's love of Minister Eric Thomas - ET the Hip Hop Preacher, inspired the name of her organization. One of his messages,
"You Matter" resonated. She used social media to reach out for volunteers to assist her in her vision of giving back. When she started the program on October of 2014, she had 6 volunteers. The organization currently stands at 40. You Matter 2's projects include transforming a south suburban park into a haunted trail. With admission at 3 canned goods, over 300 cans were donated to Respond Now in Chicago Heights. Their car wash proceeds benefit school supply giveaways for local children. Most recently they hosted a You Matter 2 Day for 5th through 8th graders, with speakers and workshops geared toward helping youth find their own passions.
In addition to a recent appearance on Windy City Live, social media, email blasts, and word-of-mouth are how Destiny and her team get the word out about their efforts.
Destiny has plans to further her organization's impact. She's started the process of seeking 501(C)(3) status, and upon starting college, plans to major in Entrepreneurship with a minor in Human Rights.
"What I really want to do is provide a space for [students from] 5th grade to 12th grade [to have] resources outside of their school. . . essentially to get them involved in volunteering and actually helping them give back to others," she shares.
Destiny's desire to live by The Golden Rule fuel her work. "If I were ever in need of anything, I would want someone to help me, so I want to do the same for others." For more information, to volunteer or to donate, visit www.youmatter2.com.