Empowers Women to Achieve Personal and Professional Goals
5/4/2016, noon | Updated on 5/4/2016, noon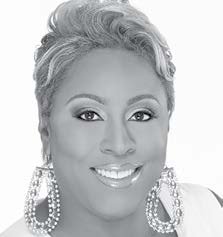 5/4/2016 — NEW YORK -- Award-winning international keynote speaker, author, coach, and entrepreneur, Cheryl Wood coaches all individuals, particularly women, to conquer obstacles and achieve their goals, using the principles of FEARLESS Living. Many women wish to change career paths, be an entrepreneur or develop generational wealth, but are often overwhelmed with doubt and fear. These hopefuls may need support and a positive boost to propel them towards their dreams. Wood strives to push audiences to overcome self-limiting thoughts of doubt and fear by providing strategic steps to help them ultimately reach their goals.
Wood is a fearless visionary who impacts individuals with her bold and audacious approach to living life. Her motto, "Play time is Over" emphasizes one's ability to analyze any goals and dreams and ask "Why not me?" and
"Why not now?" She founded the Play Time Is Over Women In Business Conference, a two-day program that aims to liberate women to think bigger and make bold
choices. She helps lead them towards their dreams by performing a host of interviews, power talks, panel discussions, keynotes, and professional networking. Coupled with stories of courage and risk, this event is the right fit for driven women who are ready to eliminate excuses, fears, and perfection paralysis, to continue on their unique path of greatness. She is also the CEO of Personal Power Enterprises, LLC and founder of the Do It, Love It, Rock It training program which includes the Rock Your Stage University.
"Life is too short to sit and wait for one seed to sprout," states Wood. "Your job is to plant and plant and plant -- as often and as consistently as possible -- so that multiple seeds will eventually sprout simultaneously. And those
that don't sprout won't stop you from moving forward."
Wood speaks from experience, having transitioned from a legal secretary of 15 years to achieving her goal of becoming a successful stadium speaker in just six years. Wood inspires her audience to follow in her footsteps, embracing their next level, personally and professionally. Having faced the difficulties of moving to a different career, Wood has quite literally stood in the shoes of her audience and has experienced similar frustrations and challenges.
This allows her to speak with great authority and understanding. She uses her experiences to create meaningful communication leading to improved business and personal function. Cheryl has delivered the keynote for numerous organizations including Federally Employed Women, Department of Defense Media Activity, Virginia Women in Public Finance, National Oceanic and Atmospheric Association, Blacks in Government, and many more.
"I want women to feel inspired by my story," continues Wood. "I focused on my assets rather than what I lacked, and this gave me the confidence to develop a successful and fulfilling career. I hope to instill this self-assurance in women everywhere."
PRNewswire