My brother's keepers
6/29/2016, 6 a.m. | Updated on 6/29/2016, 6 a.m.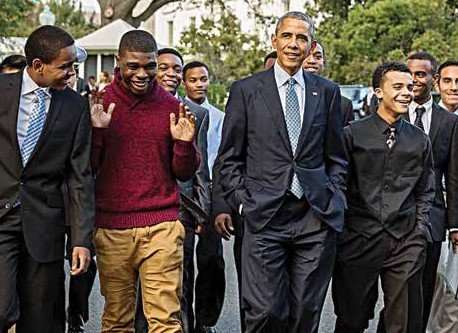 My brother's keepers
Editorial
Data shows that boys and young men of color, regardless of socio-economic background, are disproportionately at risk throughout the journey from their youngest years to college and career. For instance, large disparities remain in reading proficiency, with 86 percent of black boys and 82 percent of Hispanic boys reading below proficiency levels by the fourth grade compared to 58 percent of white boys reading below proficiency levels, according to whitehouse.gov.
Additionally, the disproportionate number of black and Hispanic young men who are unemployed or involved in the criminal justice system alone is a perilous drag on state budgets, and undermines family and community stability.
These young men are more than six times as likely to be victims of murder than their white peers and account for almost half of the country's murder victims each year. Given these staggering statistics, one can only hope for solutions.
President Obama launched the My Brother's Keeper initiative to address persistent opportunity gaps faced by boys and young men of color and to ensure that all young people can reach their full potential. Perhaps it's a good time to take a fresh look at this
initiative as a way to offer solutions.
Through this initiative, the Administration is joining with cities and towns, businesses, and foundations who are taking important steps to connect young people to mentoring, support networks, and the skills they need to find a good job or go to college and work their way into the middle class. The initiative is focused on six milestones including:
Getting a Healthy Start and Entering School Ready to Learn All children should have a healthy start and enter school ready cognitively, physically, socially, and emotionally.
Reading at Grade Level by Third Grade
All children should be reading at grade level by age 8 – the age at which reading to learn becomes essential.
Graduating from High School Ready for College and Career
All youth should receive a quality high school education and graduate with the skills and tools needed to advance to post -secondary education or training.
Completing Post-secondary Education or Training
Every American should have the option to attend post -secondary education and receive the education and training needed for the quality jobs of today and tomorrow.
Successfully Entering the Workforce
Anyone who wants a job, should be able to get a job that allows them to support themselves and their families.
Keeping Kids on Track and Giving Them Second Chances
All youth and young adults should be safe from violent crime; and individuals who are confined should receive the education, training, and treatment they need for a second chance.
Commenting on the program back in January 2014, President Obama said, "I'm reaching out to some of America's leading foundations and corporations on a new initiative to help more young men of color facing especially tough odds to stay on track and reach their full potential." In statements made in February 2014, the president added, "That's what 'My Brother's Keeper' is all about. Helping more of our young people stay on track. Providing the support they need to think more broadly about their future. Building on what works – when it works, in those critical life-changing moments."