Youth Program Helps Turn Boys Into Men
6/22/2016, 10:51 a.m. | Updated on 6/22/2016, 10:51 a.m.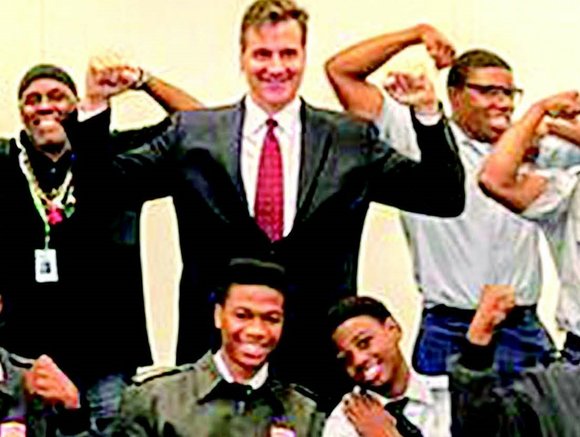 Youth Program Helps Turn Boys Into Men
By Monique Smith
The Youth Guidance Organization offers programs that serve more than 8,000 students in Chicago schools, most of which are African American or Hispanic/Latino. These are children who live in low income communities, neighborhoods considered to be the roughest parts of the city. One of their major initiatives is the Becoming a Man program (BAM), which helps provide guidance to young men on the road to manhood. Since its launch in 2001, Becoming a Man has helped young men see a future for themselves by working with them through difficult situations.
The program was founded by Anthony Ramirez-DiVittorio who created a safe, supportive space for male students at Clemente High School to freely express themselves.
He also helped them develop the social and emotional skills needed to succeed. Becoming a Man Program Director A.J. Watson said, "The perception is that the young men are bad kids, criminal or juvenile delinquents, but they're just teenagers." While BAM's office headquarters are downtown Chicago, the program counselors and mentors operate solely in schools across the city in the Roseland, Englewood, East Garfield Park, Austin, Pilsen and Little Village neighborhoods.
"Every time we enter a school we have a conversation with that school (administration) and they usually have a list of young men they want involved in the program. Those lists are the kids that are most at risk because of outside obstacles or other behavioral issues," said Watson.
Students are not the only ones required to go through a man's 'Right of Passage.' Watson says the program requires that their counselors and mentors also be men of integrity.
"Most of our counselors have master degrees in a clinical field of study, but they do have to go through additional training with the program. They need to be culturally competent and embody the principals we teach the young men like respect for womanhood." Watson says it has been incredibly rewarding working with these young men.
Studies conducted by the University of Chicago Crime Lab have been done to show the impact BAM has had on the community and its participants. Students were randomly assigned to BAM's school-based program or their after school program or both. The students that the study focused on were the ones at medium risk meaning those who prior school records indicated cognitive skills deficits, but were determined to likely attend school often enough to benefit from BAM's initiative.
The last study conducted during the 2009- 2010 academic year showed that participation in BAM reduced violent crime by 44% and 36% for other non-violent, non-drug or non-property crimes. According to the report, it also showed an increase in school engagement and performance. There was 23% improvement in the high school graduation rate which was reflected in higher lifetime earnings, tax payments and lower use of public benefits. Another study is due to be released in the coming weeks. The study indicates the positive results BAM has had on the young men involved, but a larger picture shows how the program impacts a community.