School Offers Unique Opportunity to Second Chance Students in North Lawndale
6/15/2016, noon | Updated on 6/15/2016, noon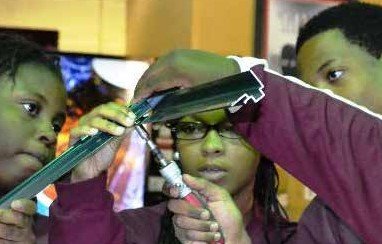 School Offers Unique Opportunity to Second Chance Students in North Lawndale
While many students are considering their options for getting a high school education, Community Christian Alternative (CCA) Academy located on 1231 S. Pulaski is a unique option for those who wish to enroll in a small school with a family-like environment for the coming academic year beginning September 2016. Since 1978, CCA has welcomed students who want a second chance to complete their education. Each year, 85- 90% of CCA seniors graduate and of that number, 90% go on to successful postsecondary education or employment. CCA Academy offers unique "hands-on" learning experiences through the school's Urban Agriculture/Sustainability/ Wellness focus that incorporates Science, Technology, Engineering, Art, and Mathematics (STEAM). The interdisciplinary curriculum includes project-based learning and problem solving through a range of activities that relate to classroom studies.
Indoors, students work in the student managed aquaponics system, that can be remotely monitored, where water is recirculated for the fish tanks with indoor grow beds for greens and herbs. Outdoors, students care for two urban learning gardens, one with a solar-paneled greenhouse and another with an outdoor classroom.
Students learn a range of skills such as climate observation, crop irrigation, rainwater management, solar energy, pest management, native and invasive plant species, perennial planting, landscaping, art and design and basic construction related skills. Nutrition and exercise classes promote healthy food choices. The school is scheduled to offer culinary classes in the fall.
These activities introduce students to careers in urban farming, aquaponics, pest control, landscaping and in the areas of solar energy, water quality and food service management. Students also conduct demonstrations throughout the city at other schools or institutions like the Museum of Science and Industry, according to a released statement. Community Service learning and internship opportunities are also offered.
CCA boasts of an array of extracurricular activities that include team sports, such as volleyball and basketball and a variety of club activities for all students, including Mikva Challenge that promote active civic engagement. College counseling and individual and group counseling sessions are part of the learning experience where Restorative Justice practices promote a harmonious environment for students, teachers and staff alike—and where all live by the school motto, "Everybody's job is to learn."
This school has attracted attention from regional and national media such as CBS2 News-Chicago, the Chicago Tribune, Education Week, Model D Magazine, Mother Jones Magazine, and the Garfield-Lawndale Voice.
CCA Founder and Chief Education Officer, Myra Sampson, EdD, is the visionary force behind the school where all teachers are certified and many hold advanced degrees.
While the school operates independently, CCA is a campus of the Youth Connection Charter School and is a charter member of the Alternative Schools Network. Tuition is free. To learn more about CCA , go to www.ccaacademy. org or on Facebook at CCA Academy. For information on enrollment or to tour the school, contact Ebony Sampson or Charlene Benson at (773) 762-2272.