Initiative Gets Teens Off The Block
6/7/2016, midnight | Updated on 6/7/2016, midnight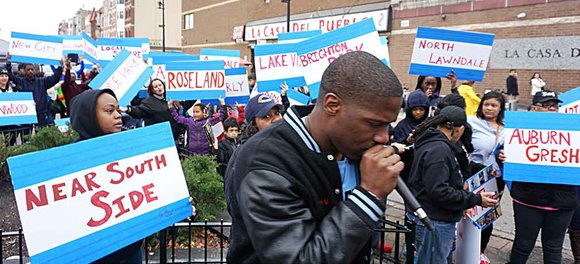 Initiative Gets Teens Off The Block
By Chelsea Johnson
When Jahmal Cole graduated from college, he began to volunteer with the Cook County Juvenile Correction Offices to work with teens and young adults who were behind bars. It became apparent to Jahmal after two years of volunteering that many of the teens, prior to their current circumstances, had never seen Chicago outside of their neighborhood.
"They would say things like 'you have to have money to go downtown' or 'that's for white people' when it came to exploring other neighborhoods or trying different types of food; or something as simple as walking along the lake," says Jahmal. "I thought it was tragic that they hadn't left the radius of their blocks." My Block, My Hood, My City was started with the hopes that it would be the vessel in introducing young Chicagoans to places within their city that they had never seen or experienced. Each month, a group of 15 students indulge on a citywide exploration that introduces them to neighborhoods they may have never heard of and to different cuisines that they may have never tried. Each participating teenager receives a MBMHMC t-shirt, a one-day Ventra pass for the day of exploration and an explorer's journal.
"I'd like to think that our program gives them the muscle memory to try new things; to allow them to gain exposure and have the confidence to conquer difficult things and not settle," Jahmal says.
A current program participant named Noah recently thanked Jahmal for the program, citing the experience as a confidence booster that pushed him to go to college and leave the comfort of the his native South Shore neighborhood.
That feedback alone justifies the means of the program for Jahmal. With a steadily growing group of participants, Jahmal continues to network and advocate for these teenagers so that they are exposed to the possibilities just beyond their neighborhoods. With the number of participants now at 60, Jahmal hopes that number will grow to 150 teens by September, especially with the number of interested schools and nonprofits increasing. The process, Jahmal says, is allowing them to grow organically.
Most important to Jahmal, besides working with the teens and showing them a whole new world outside of their neighborhood, is seeing the difference it creates; not just in their futures, but in their everyday lives as they stay active participants with MBMHMC.
"It has really been interesting to see what the power of travel can do. I'm really into tracking and measuring the metrics and correlation between the amount of exposure a student is receiving and how that can change their attendance rate in school, their suspension rate or expulsion rate," Jahmal says.
The cost per explorer is $77 per exploration and teens typically participate in about 10 explorations a year with MBMHMC. Money is raised through sales of their online apparel shop, or through individual sponsors that can contribute to the program as well. Both can be done at http://mbmhmc.com.