Bishop Derrick M. Fitzpatrick
6/1/2016, 11:10 a.m. | Updated on 6/1/2016, 11:10 a.m.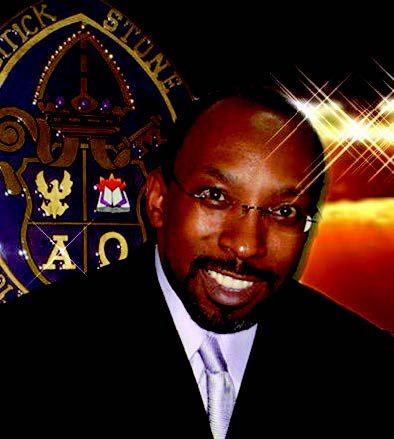 Pastor Profile
Bishop Derrick M. Fitzpatrick
By Monique Smith
Bishop Derrick M. Fitzpatrick, pastor of Stone Temple Missionary Baptist Church is what you would call a bivocational pastor. He has a Master's and Doctorate degree in Theology and Biblical studies, but also has an undergraduate degree in Engineering Physics. Bishop Fitzpatrick has worked as an Engineering Manager and now the Manager of Sales and Marketing for United Chemi-Con, Inc., a company he's been with for more than 29 years. He is married to Reshorna Fitzpatrick who pastors Proceeding Word Church.
The historic Stone Temple Church which sits in the heart of North Lawndale started out in the 1920's as a Jewish synagogue, but as the African American population in the community grew, it became a church in 1954. The church once provided a pulpit for the late Rev. Dr. Martin Luther King Jr. to preach and a forum for King's vision for equitable housing in Chicago during the civil rights movement.
The City of Chicago has recently made the recommendation to the Landmark's Commission to honor Stone Temple with Landmark designation. The church was founded by Fitzpatrick's maternal grandfather, the late Rev. James Marcellus Stone who licensed and ordained him in 1987. Though Fitzpatrick works in corporate America, he is absolute in his belief that he was called to preach. "I truly know and believe that is has been my assignment to be a pastor and to be in the church I am in and to serve the people I serve. I do question where the resources are at times, but it is the joy of my life. There is no question in my mind," he says.
The city of Chicago is plagued by gun violence, people are filled with depression and despair, but Bishop Fitzpatrick stands firm on his belief and message that all is not lost. He says, "It's a challenge to convince people that they actually have a future and with God all things are possible, they don't believe. They don't have faith it will get better especially when they don't see or have the resources to make it better." Bishop Fitzpatrick works to convey a message of hope, faith and purpose. "The Bible tells us that God has a purpose and destiny for your life, you need to know what that is. When you discover your purpose, you move into better prosperity for your life. Your gift will make room for you."
For decades the church has played a significant role in the black community. "Historically we have been on the forefront on the advancement of civil rights; we should be a strong voice. But we have to be careful not to stray away from our main focus which is to bring people to Christ. We are to be a helping hand and a support," says Bishop Fitzpatrick.