50 Years later, community leaders commemorate Dr. King's 1966 March By Monique Smith
7/12/2016, midnight | Updated on 7/12/2016, midnight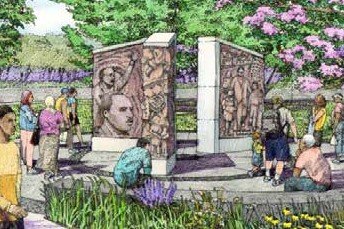 50 Years later, community leaders commemorate Dr. King's 1966 March
By Monique Smith
In 1965, 44 civil rights organizations fighting to end slums and poor living conditions for blacks collectively known as the Chicago Freedom Movement invited Dr. Martin Luther King Jr. to come to Chicago. Dr. King, the Southern Christian Leadership Council and local leaders like James Bevel and Al Raby used this as an opportunity to shift the agenda of the civil rights movement by addressing the entrenched racial discrimination in urban cities which kept blacks in ghettos, overcrowded schools and low-paying jobs.
King's move into the slums of the North Lawndale community made headlines, shed light and brought national attention to the conditions blacks were living under in the city. 50 years later, the landscape of inequality in housing, jobs and education in Chicago neighborhoods persists.
A large consortium of contemporary activists, faith leaders, community members and several of the original members of the Chicago Freedom Movement marchers will converge in the streets of Marquette Park for a two-day event to mark the 50th anniversary of King's 1966 march through Marquette Park.
On Friday, August 5th, 2016, the group will unveil Chicago's first permanent MLK Memorial and on Saturday, August 6th they will travel to portions of the same path in Marquette Park that King walked through 50 years ago.
The larger message of the walk is the journey for justice, said Dr. Rami Nashashibi, Executive Director of the Inner-City Muslim Action Network.
"Community members from Chicago, Detroit, Washington, D.C. and Atlanta are coming together to amplify this message for our time. Some of the same festering issues Dr. King raised in 1966 continue across the city and it's an important legacy for our young people to be aware of, a legacy that confronts the darker side of the city," he said.
The memorial was designed by the Chicago Public Art Group. "It's an organic reflection of the movement," said Dr. Nashashibi who along with Father Michael Pfleger of St. Sabina Catholic Church sits on the Chicago MLK Memorial Planning Committee.
Pfleger calls on us to also remember the 50th anniversary of Dr. King's Freedom Sunday rally at Soldier Field which occurred on July 10, 1966.
"We are terrible at remembering some history and other parts of history are just dismissed altogether," said Pfleger.
More than 35,000 people packed the stadium for the Freedom Sunday rally. During the march in Marquette Park, Dr. King was met with violent angry white protesters, one of which threw a brick/stone that struck him I the head. He fell to the ground on one knee, stunned, he slowly got up and continued on. When King was asked why he put himself at risk, he was quoted as saying, "I have to do this—to expose myself—to bring this hate into the open." Speaking on his experience in Marquette Park, Dr. King said, "I have seen many demonstrations in the South, but I have never seen anything so hostile and so hateful as I've seen here today."
Dr. King made those statements nearly 50 years ago. As the nation remains divided and full of racial hatred, one can only think how different are things today? For more information on the Chicago MLK Memorial visit: www. mlkmemorialchicago.org/thecommittee