Rauner: I Would Sign Chicago Mayor Recall Bill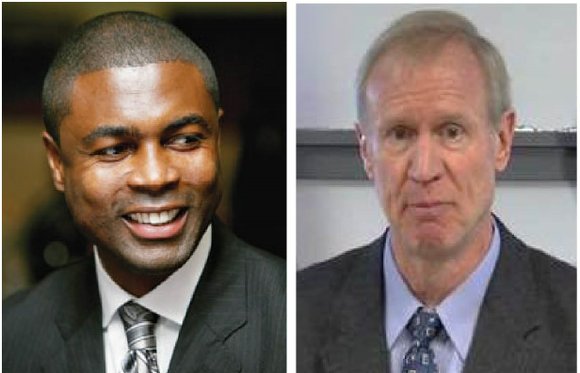 Perhaps to the chagrin of Chicago Mayor Rahm Emanuel, Ill. Gov. Bruce Rauner said at a press conference on Monday, that he would sign legislation that would allow a recall election to remove the mayor.
"I am very disappointed in the mayor and the state's attorney for Cook County," Rauner said. "Very disappointed….I would sign that bill."
To date, Illinois state law only allows for the recall of a governor, a provision voters approved in 2010 after former Illinois Gov. Rod Blagojevich was arrested and impeached. But that could all change thanks to a bill introduced by Ill. State Rep. LaShawn Ford (Dist.-8th) on Dec. 9 that was drafted to give voters the power to remove the mayor.
Ford introduced his bill on the day Emanuel addressed the Chicago City Council and apologized for the death of Laquan McDonald, a black teenager who was shot 16 times by a white police officer in October 2014. Emanuel's apology came a couple of weeks after the release of police dashcam video that appeared to show McDonald walking away from officers when he was shot. The video triggered protests and calls for Emanuel's resignation.
"I felt good about [Gov. Rauner's] entire statement, about how he is disappointed in Mayor Emanuel and Cook County Attorney Anita Alvarez and it's great to have his support," Rep. Ford told the Chicago Citizen Newspaper. "But whether the governor signs the bill or not, it is veto proof so therefore we the legislators would not have to override a veto."
Ford also said that he was motivated to draft the recall bill when the citizens of Chicago started asking for Emanuel's resignation and when the city erupted in protest.
"When people here started asking for his resignation and started constantly protesting, I knew he wasn't going to resign and he has a right to feel that way," Ford explained. "But I felt I couldn't just sit idly by as a representative of the people, and do nothing."
Emanuel has maintained that he will not step down.
"We understand there's a desire by some to insert politics into this discussion, but the mayor's focus is not on his own personal politics," Emanuel spokesman Adam Collins said in a statement. "His focus is on taking the action necessary to finally and fully address an issue that has challenged Chicago for decades, and reform the system and culture of policing in Chicago."
Under Ford's proposal, two city aldermen would have to sign an affidavit agreeing with a recall petition and organizers must collect more than 88,000 signatures from registered voters in the city. At least 50 signatures must come from each of 50 wards.
The proposal would pre-empt local law, so it needs approval from two-thirds of each chamber of the Illinois Legislature to pass during the session that starts this month. The bill would be effective immediately if signed into law, a scenario that can pose legal questions because it would target someone currently in office, said David Melton, executive director of the Illinois Campaign for Political Reform.
A spokesperson from the Mayor's office said in a released statement on the matter, "We're a little surprised given that at the governor's own request, our team has been actively involved in trying to untangle the logjam in Springfield. At a time when Chicago's children are leading the nation in academic improvement, it's unfortunate that yet again they are being used as pawns in a political chess match."