C.R.O.E'S FOUNDERS DAY 2016
A Salute to Those Who Paved the Way
2/10/2016, 11:02 a.m.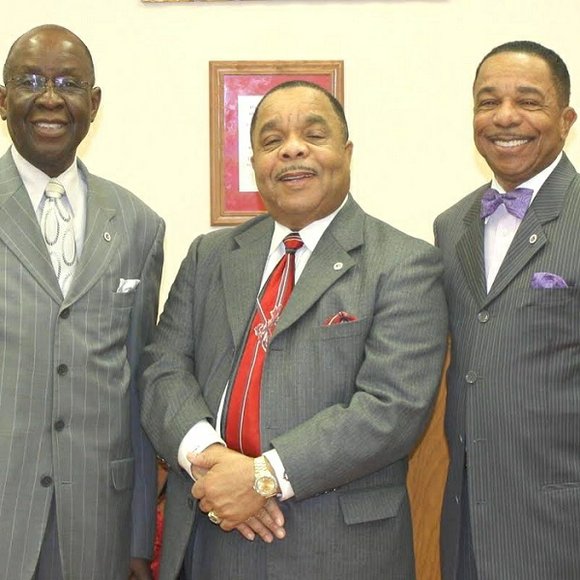 On sunday, Feb. 21, 2016 at 5:30 p.m., people from all walks of life will gather on the southwest side of Chicago to pay tribute to three men: Munir Muhammad (Business Manager), Halif Muhammad (Secretary), and Shahid Muslim (Director).
This trio 29 years ago founded C.R.O.E. (Coalition for the Remembrance of Elijah Muhammad) which is an archival library and information center dedicated to Nation of Islam leader the Hon. Elijah Muhammad. The organization's primary mission is to make sure the name, accomplishments, and ideas of the Hon. Elijah Muhammad are remembered.
C.R.O.E. uses historical data from Muhammad Speaks newspaper periodicals, speeches, interviews, photographs and other memorabilia to continue the Hon. Elijah Muhammad's legacy.
In 1994 the organization launched C.R.O.E. TV, a vehicle use to educate the entire community about the Hon. Elijah Muhammad.
In 1998 the organization renovated a tavern once known as Fuzzy's Den into a state of the art television studio, where C.R.O.E. TV's flagship shows Muhammad and Friends and The Munir Muhammad Show are filmed.
Hosted by Munir Muhammad, C.R.O.E'S Business Manager, C.R.O.E. TV has been at the forefront of providing vital information and substantive news on the issues that affect the black community and the general public.
Recently following the release of video footage of the killing of 17 year-old Laquan McDonald, ABC 7-Chiccgo's Political Reporter Charles Thomas, Cook County State's Attorney Anita Alvarez, her current opponent Kimberly Foxx and Chicago Mayor Rahm Emmanuel sat down to discuss the incident on C.R.O.E TV.





Today programming produced by C.R.O.E TV can be seen in major cities throughout America including Atlanta, New York, Charlotte NC, Superior WI, Prince Georges County MD and worldwide via USTREAM on the internet every Sunday at 2:30 p.m.
Founder's Day is C.R.O.E 's only annual fundraising and is a chance for the community to show their appreciation and help preserve this unique institution.
For ticket information or to make a donation contact C.R.O.E. @ 773-925-1600 or www.croe.org.