Thornton Township wins Township of the Year
12/20/2016, midnight | Updated on 12/20/2016, midnight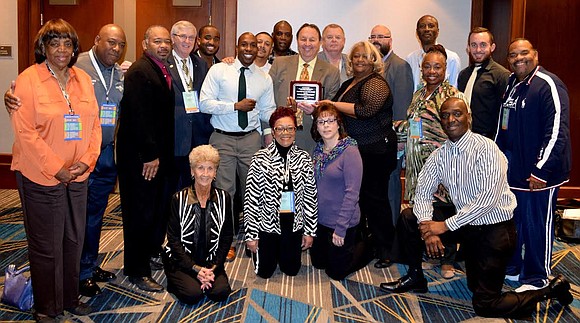 Thornton Township wins Township of the Year
Thornton Township received the Illinois Township of the Year award at the annual Township of Illinois Annual Educational Conference in Springfield recently. The township received the award previously in 2004 and 2008.
"We are very proud of the hard work our staff does to provide the highest quality of service to our community," said Frank M. Zuccarelli, Thornton Township supervisor. "Our motto is people working with people and we truly believe that township government is at the ground floor of providing the necessary programs that communities need.'
The largest township in Illinois, Thornton Township is made up of all or part of 17 south suburban communities. The township provides a general assistance program offering financial relief for qualified residents, registers voters, helps with homeowners and senior citizen homestead exemptions, offers a food assistance program, free family counseling, after school homework tutoring and weekly senior programs.

Thornton Township received the award for many of the programs it offers. Many state run Meals on Wheels programs have cut down the number of days food is offered leaving many seniors on long waiting lists for services.
But at Thornton Township's Food Assistance Center, more than 3,000 families per month with more than 350 boxes of nourishing food delivered each week directly to the homes of senior residents who are shut-ins, are served.
Because of a lack of state funding, many organizations can no longer offer transportation services for seniors. Just this year, Senior Services Plus, which was a bus transportation for seniors, shut down for the first time in 43 years. Some of the Catholic Charities USA around the Chicagoland area had to cut or alter their senior transportation services as well, according to a press release.
However, the township has filled that void by proving a record number of rides to medical appointments and to grocery stores. The Senior Transportation Department provides trips for the people of the Township that are 60-years of age and older. For the last three consecutive years, Senior Transportation has broken records for completed trips every year. The township averages picking up more than 160 seniors each weekday.


In addition, with employment higher than the national average in south suburban cities and towns, the township has helped match unemployed residents with purposeful, long-term job opportunities. During the past eighteen months, around 110 township residents have found meaningful, long-term positions, according to a press release.