Chicago organization wins $30k from Mazda and NBCUniversal
12/13/2016, midnight | Updated on 12/13/2016, midnight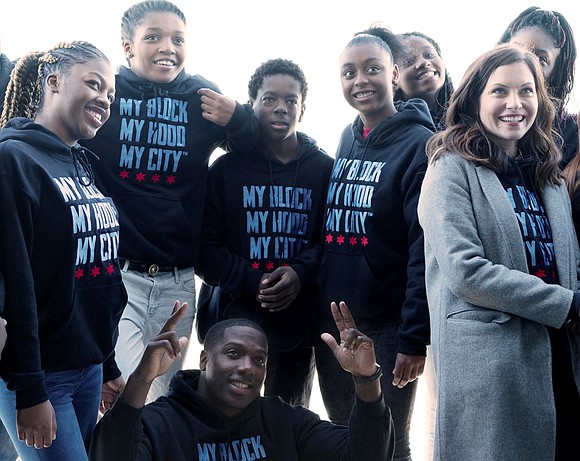 Chicago organization wins $30k from Mazda and NBCUniversal
IRVINE, Calif. – Mazda North American Operations (MNAO), through the Mazda Drive for Good® charity program and its annual partnership with NBCUniversal, has selected My Block, My Hood, My City as the recipient of $30,000 in goods and services as part of its Mazda Drive for Good contest.
After reading through all of the submissions for this year's contest, Mazda chose to separately select four additional nonprofits to receive $10,000 in goods and services. The winners of the $10,000 prize include Elevating Connections, Erin's Hope for Friends, Move for Hunger and Warm Winters.
From October 10 to October 24, 2016, viewers were invited to nominate themselves, or others involved in nonprofits, for the 2016 Mazda Drive for Good community charity contest. At the conclusion of the contest, a panel of judges reviewed the submissions and chose one winner to receive a $30,000 donation—money raised as part of the 2016 Mazda Drive for Good program. Jahmal Cole, the founder of My Block, My Hood, My City, was notified of the award through a surprise in-person appearance by actress Jill Flint.
My Block, My Hood, My City's Explorers' program takes teenagers from schools in low social economic status neighborhoods on educational explorations. They receive a firsthand glimpse into different cultures and careers, people, and businesses. To learn more, visit http://mbmhmc.com/.
"In the third year of the contest, we received so many great submissions. Jahmal and his team at My Block, My Hood, My City stood out because of their dedication to helping youth experience and explore new adventures in their city," said Masahiro Moro, president and CEO of MNAO. "We felt My Block, My Hood, My City, as well as the other wonderful organizations, established a clear goal for how their organization would continue to improve the lives of others—something important to continuing their support of their local community, and something that closely identifies with the mission of the Mazda Drive for Good program."
The partnership between MNAO and NBCUniversal spans across NBCUniversal's broadcast, cable and digital networks with the most recent TV spots highlighting My Block, My Hood, My City's unique support of youth in Chicago. Creative content for the partnership was created in collaboration by MNAO, Mazda's creative partner WPP's Garage Team Mazda and NBCUniversal's Content Innovation Agency.
The Mazda Drive for Good winter event is in its fourth year of fundraising and for 2016, Mazda will continue its donation of $150 per new Mazda sold or leased between now and January 3, 2017, and donate one hour of charitable service for every test drive taken during that time. Since its launch in 2013, Mazda has donated more than $13 million to charity and has pledged more than 195,000 charitable service hours. Mazda will continue its work with four national charities and more than 40 local charities. Follow the conversation at #MazdaDrive4Good or MazdaUSA.com/Drive4Good.