Child-Star Dr. Danielle Spencer-David to be Honored with Smithsonian Exhibit
8/30/2016, midnight | Updated on 8/30/2016, midnight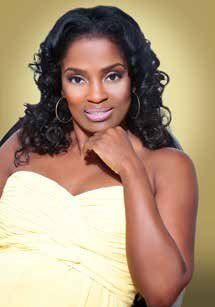 Child-Star Dr. Danielle Spencer-David to be Honored with Smithsonian Exhibit
Best known for her acting antics as bratty little sister "Dee"on the television series "What's Happening!!" Dr. Danielle Spencer- David will soon be accepting a new role: That of a Smithsonian Institution inductee.
Dr. Spencer-David will be a part of the inaugural class of the Smithsonian Institute's National Museum of African American History and Culture (NMAAHC) and will be honored at a reception on September 17, 2016 with a permanent exhibit in the Washington, DC installation.
"To be recognized as the first pre-teen African American female in a sitcom and have my work included in the Smithsonian is beyond any type of acknowledgement that I could have ever imagined," she said. "Being a part of Smithsonian history forever is extremely humbling. I am hopeful that my exhibit will be a source of inspiration for those who are interested in the arts."
"What's Happening!!" aired from 1976 to 1979 on ABC. Dr. Spencer- David's amazing timing, quick wit and "Ooohh, I'm tellin' Mama!" trademark phrase garnered her critical praise as well as a 2006 TV Land Award for the "Character Most Desperately in Need of a Timeout" Award – an achievement she relishes and credits with highlighting her career as an actor.
In 1993, Dr. Spencer-David earned her degree from Tuskegee University Veterinary School, fulfilling her childhood dream of becoming a veterinarian. Her autobiography "Through the Fire: Journal of a Child Star" was published in 2011, offering raw insight into the spirit of determination that enabled her to pursue – and reach – her goals.
Dr. Spencer-David is also a breast cancer survivor who has shared her story at several regional Breast Cancer Awareness events. This October during National Breast Cancer Awareness Month, she will be performing in a stage play called "Even a Good Man is Tempted" with Shirley Murdock and star in "The Journey" – a new play by Cheryl Pelt which tells the story of two women: one a civil rights movement icon and the other a hot-shot Northern reporter.
Designed to enhance learning about the rich diversity of the African American experience, the National Museum of African American History and Culture was established in 2003. President Barack Obama helped break ground for the building in 2012 and the doors of this unique cultural institution will open to the public for the first time on September 24, 2016. For more on Dr. Spencer-David, log onto http://danispencer.com.