Brandy, 2016 Chicago Ultimate Women's Expo Keynote Speaker
8/30/2016, midnight | Updated on 8/30/2016, midnight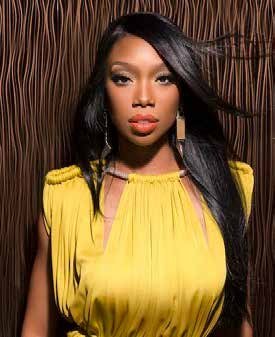 Brandy, 2016 Chicago Ultimate Women's Expo Keynote Speaker
The Chicago Ultimate Women's Expo presents a star-studded, empowering and entertaining weekend on September 10 and 11, 2016 at the Donald E. Stephens Convention Center. Keynote celebrity speakers include:
Brandy, Award Winning Actress and Grammy Winning Singer Mariel Hemingway, Oscar Nominated Actress, New York Times Bestselling Author and Health Advocate
Monica, Grammy Award Winning R&B/Pop Icon Caroline Manzo, BRAVOTV's "Manzo'd with Children"
Sonja Norwood, Producer and Hollywood Manager
Each celebrity delivers, in her own unique style, motivational messages to women on "Living Your Best Life." Prepare to laugh and become inspired as the Keynote Speakers share their personal stories and roadmaps to achieve success and happiness and ultimately live your very best life. Join Brandy, Mariel and Sonja on Saturday, September 10th and Monica and Caroline Manzo present on Sunday, September 11th.
The Chicago Ultimate Women's Expo also offers women a wealth of memorable, transformative experiences:
Beautify: Complimentary haircuts, makeovers, manicures, facials and plenty of free samples of the best cosmetics, skin care, and beauty products in the industry.
Do-It-Herself Workshops: Afraid of a drill or glue gun? Never fear. The "Do-It- Herself " lounges provide a terrific variety of complimentary Make-NTake workshops including Jewelry Making, Cake Decorating, Sewing, Candle Making, Gardening, Martha Stewart Home Décor and more.
Get Cooking: Talented chefs showcase their culinary skills with easy recipes for the summer and every day--from flambé to sauté, from hors d'oeuvres to desserts. And, tastings, of course!
Extraordinary Discount Shopping: Over 400 boutiques where you can uncover one-of-a kind finds in fashion, accessories, jewelry, home décor and handbags at sensational pricing.
Get Started: Respected experts in finance, healthcare, career development, personal growth, style, beauty and home design and décor will educate and inspire. Top achievers in television and film share insights and reveal struggles that propelled them to the top of their fields. Meet Keynote speakers and take home signed cºpies of best-selling books.
Rejuvenate: Enjoy a luxurious complimentary massage from inside the Rejuvenation Massage Garden. The Chicago Ultimate Women's Expo hours are 10 a.m. to 5 p.m. on Saturday, September 10, and 11 a.m. to 5 p.m. on Sunday, September 11 at the Donald E. Stephens Convention Center. Advance tickets are $5.00 when purchased online at www.chicagowomensexpo.com and include all makeovers, tastings, celebrity speakers, shows and seminars.