Woodlawn Breaks Ground on First Market Rate Housing Development in 40 years
8/3/2016, 1:13 p.m. | Updated on 8/3/2016, 1:13 p.m.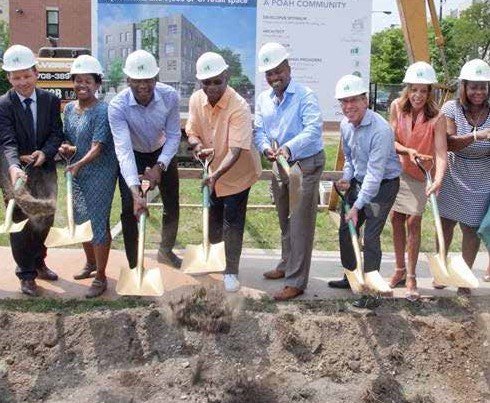 Woodlawn Breaks Ground on First Market Rate Housing Development in 40 years
By Monique Smith
The President of the Preservation of Affordable Housing organization (POAH) Aaron Gornstein along with Antonia Riley, and Midwest Regional Director of the U.S. HUD, business owners, community members, stakeholders and 20th Ward Alderman Willie Cochran recently broke ground on a $12.5 million development project. The Trianon Lofts is the first market rate rental building to be constructed in the Woodlawn neighborhood in over 40 years.
The new development project will consist of 24 residential units and most will be two bedroom, two bathroom rental units and 7,000 square feet of commercial space. The building will be located at 803 East 61st Street and will join POAH's three completed family buildings and senior housing building along the Cottage Grove corridor.
POAH is a nonprofit organization whose primary mission is to preserve and steward affordable rental housing for low to moderate income individuals and families.
POAH operates nationally in over 80 different communities. It has built and renovated more than 400 units of housing in mixed income buildings in Woodlawn, partnered with MetroSquash to construct a youth sports/education center, created new levels of community collaboration and coordinated partner driven development along 63rd Street. Market rate rents are established by the economics of the community, thus rental rates for units in the Trianon Lofts range from $1350 to $1450 per month.
William Eager, Vice President of POAH Chicago said, "We think that a community is stronger and healthier if it has a mix of different incomes." The development of the Trianon Lofts within the Woodlawn community is reminiscent of other neighborhoods like Bronzeville who've attempted to create mixed income communities much like models put in place by the Chicago Housing Authority.
"Having a higher income bracket in a community is going to attract more amenities and create other opportunities for that community," said Eager. The amenities in each unit include stainless steel appliances, granite counter tops and in unit washer & dryers.
"These units will appeal to students, young professionals and those in the community that may be looking to move into new construction," said Eager. Construction for the new development is slated for this coming fall.