Shanta Nurullah Featured at the Logan Center's Family Saturday Festival
4/27/2016, noon | Updated on 4/27/2016, noon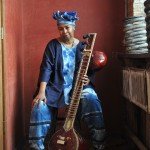 Shanta Nurullah Featured at the Logan Center's Family Saturday Festival
Young minds will be inspired and imaginations stimulated when youngsters are invited to make up their own stories and tune into the magic of the sitar at the Reva & David Logan Center for the Arts' quarterly Family Saturday Festival. Focusing on the theme of "Improvisation," there will be lots of ad-libbing, invention and making stuff up as they go along. The festival takes place Saturday, April 30, 2016 at the Logan Center for the Arts, 915 E 60th Street from 12-4 pm. Admission is $5 per person; $20 for groups of 5 or more. Tickets may be purchased at tickets. uchicago.edu or by calling 773-702-ARTS. Walk-ups are welcome, but preregistration is strongly encouraged as capacity is limited.
Featured performance is by StoryTown (1-2pm), a fully improvised showcreated on the spot by the kids themselves. From superheroes to undersea adventures, princesses to dinosaurs, StoryTown takes youngsters on an interactive, fully improvised adventure. Using suggestions and ideas made by the kids to create a different story every time, youngsters design the setting and help shape the story, and Story Town actors, artists, and musicians bring it to life. No two stories are ever the same.
Featured artist is Shanta Nurullah (3-4pm), a captivating musician who plays the sitar, a South Asian stringed
instrument. Shanta's signature sitar style elicits the stomps, moans, and rhythms of blues and jazz, as well as the lyrical, dreamlike sounds most often associated with the instrument. Her unique approach has been heard over the years in Shanta's work with the all women's groups Sojourner, Samana, and Gemini. She is a long-time member of the inventive Association for the Advancement of Creative Musicians (AACM).
In addition to the featured performances, there will be hands-on arts & crafts workshops and other participatory activities throughout the center for ages 2-12. These include Ayodele Drum and Dance, Rebirth Poetry, the Hyde Park Youth Symphony and Pat to the Beat w/ Pat Pike. Family Saturday Festivals present high-quality, affordable family-focused activities designed to entertain, inspire, and nurture artistic passions. The Logan Center also presents monthly free Family Saturdays. The following is the final Family Saturday Festival of the season:
Saturday, June 18
Theme: Science and Sound
Featured Artists: visual/performing artist Douglas Ewart; Third Coast Percussion
Workshops: Muntu Dance Theatre, Hyde Park Youth Symphony and Frankentoy Mobile Logan Center Family Saturdays and Family Saturday Festivals are made possible through the support of the Milken Institute, Michael and Patricia Klowden, the Reva and David Logan Foundation, and friends of the Logan Center, as well as partnerships with local and national arts organizations and performing artists.
About the Reva and David Logan Center for the Arts
The Logan Center is a multidisciplinary home for the arts at the University of Chicago. Logan Center public programs include events, exhibitions, and performances from world-class, emerging, local, and student artists. Visit logan.uchicago.edu to learn more.