Chicago's Little Performs Big at World Track Championships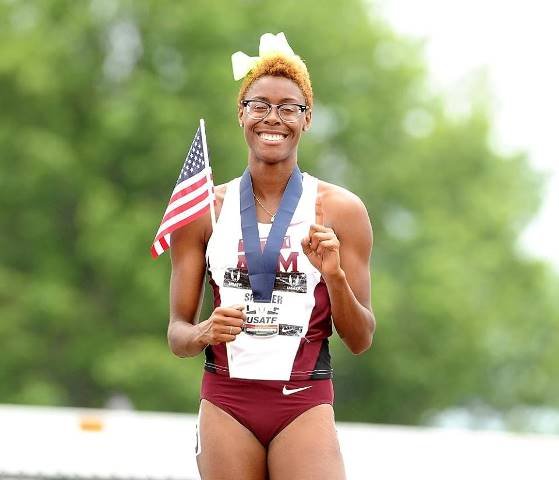 Track and field athlete Shamier Little was up against a wall.
At last month's World Track and Field Championships in Beijing, China, she drew the most inside lane for her race --- the lane most sprinters hate. And her time was the one of slowest to qualify for the 400 meter hurdle race final. But when the gun blasted, Little ran like a champion. By the time the race was over, she earned a place on the medal stand as a silver medalist.
The Chicago Lindblom Math and Science Academy graduate's performance was not unusual to those who know the 20-year-old far South Side Chicago resident.
Her coaches and others are used to Little finishing big when others have counted her out.
"I was not necessarily surprised because she has a lot of fight in her," said her former high school coach Latasha McCray. "She has what it takes to make it with the best."
Little's performance was especially noteworthy in a year when American colleagues struggled to bring home a medal. In one of the worst showings for the U.S. team, Little's second place finish was just one of 18 medals for Americans.
Little's performance even prompted a news release from Chicago Mayor Rahm Emanuel.
"On behalf of the people of Chicago, I am proud to congratulate [Little] on bringing home the silver medal," Emanuel said. "She showed us the true spirit of a champion when she took the competition by storm in a hard-fought race against the world's best hurdlers. As a graduate of Lindblom, there is no doubt that Shamier carried us with her as she represented our nation and inspired this city."
Little made her first appearance at the national level as a youngster at the 2004 USATF Youth Championships in the 100 meters on the University of Chicago Youth Track Club. She also competed for other Chicago area track clubs.
But Little chose an academically challenging but little known track program for her high school career at Lindblom at 6130 S. Wolcott Ave.
"I know when we went to [Lindblom] for orientation, we weren't even sure there was a track program," said Little's mother, Tiffany Mayfield.
Mayfield recalled that her daughter also had few people to train with to prepare for meets.
"The girls would start, but would taper off during the season," Mayfield recalled. "At one point, she was basically the lone survivor."
Her coach said she was impressed with her perseverance even though she didn't have a lot of people to push her in practices.
Still, the freshman placed in the Illinois state meet in both the low and high hurdle races, placing fourth in the state in 400 meters.
"She was outgoing, funny . . . but determined and focused," said Lindblom Athletic Director Christina Davis. "She held her own academically. . . It wasn't fun for her but she did what she needed to get things done. . . At Lindblom, it is a pretty rigorous curriculum."
She also performed well even though the high school then didn't have a track.
By the time Little was a high school junior, she accomplished a rare feat.
Little brought the school its first state team trophy for any sport since the 1950s by winning three events and placing second in a fourth. Her performance earned Lindblom the third place trophy in Class 2A.
"She definitely became the most decorated athlete by far at our school," Jackson said.
Since graduating from Lindblom, Little, a Texas A&M University student, has won two NCAA titles, the Pan American Games title and the U.S. title.
"I am extremely proud of her," said McCray who added that Little is tough. "Hopefully, we will see her in Rio De Janeiro, Brazil [the site of the Olympics) next year."