Carson Ties Trump in Iowa Poll, Becomes GOP Candidate to Watch
Call it the month of the outsider.
That is the explanation that NBC News' commentator Chuck Todd and other political analysts provide on why Dr. Ben Carson is topping an Iowa political poll along with businessman Donald Trump in the Republican Party's presidential race.
Carson's rise in last week's polls also caught the attention of black political experts because he is an African American frontrunner in a predominantly white populated state.
Iowa is the same state that helped propel President Barack Obama's eventual victory over Hillary Clinton in the 2008 election.
Carson and Trump are not traditional politicians. Yet, last week's Monmouth University Poll showed the two tied at 23 percent among Republican Iowa caucus goers. Following were candidates, Carly Fiorina (10 percent), Ted Cruz (9 percent) , Scott Walker (7 percent), Jeb Bush (5 percent), John Kasich, (4 percent), Marco Rubio (4 percent) and Rand Paul (3 percent). The eight other candidates didn't have more than 2 percent of the poll.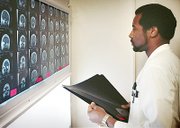 "These results mark a significant shake-up in the leaderboard from Monmouth's Iowa poll taken before the first debate," said Patrick Murray, director of the independent Monmouth University Polling Institute in West Long Branch, N.J. "Carson and, to a lesser extent, Fiorina have surged, while Walker has faded into the background."
In July, Walker was the front runner in Iowa, while Trump and Carson followed behind, according to Murray.
"[The poll] shows that [Carson] has gone from an unknown," political commentator Armstrong Williams, business manager for Carson, told the Chicago Citizen Newspapers. "He has been at different events talking about … various issues. They want somebody from the outside. They want something fresh. They want a breath of fresh air. "
Lionel Kimble, associate professor of history at Chicago State University, agreed that Iowan GOP voters want a candidate outside the traditional political mainstream.
"Iowans are very educated," added Kimble, a Chicago reared resident who has three degrees from the University of Iowa. "People think they are just a bunch of farmers. . . They won't vote so easily for Donald Trump without listening to what he has to say... Carson doesn't look like the craziest one in the bunch. His talking points seem the least out of touch with reality…He is an MD, something people like. He is an outsider. . . Trump is very Hollywood. But Iowa is very Midwestern."
Carson, a retired neurosurgeon at John Hopkins University Medical Center in Baltimore, Md., became a national figure when he became the first surgeon to successfully separate twins conjoined at the head.
Carson, 63, was awarded the Presidential Medal of Freedom by former President George W. Bush. He has received 67 honorary doctorate degrees.
A television movie based on his book "Gifted Hands," showed how
Carson overcame a violent temper and strove for success as a youth in Detroit, Mich.
Carson, who is married with three adult sons, is conservative and a member of the Seventh Day Adventist Church.
In 2013, Carson called the Affordable Care Act, "the worst thing that has happened in this nation since slavery." He added that it is a form of slavery because it "[makes] all of us subservient to the government."
His controversial remarks drew widespread criticism.
Carson later denied that he was equating Obamacare with slavery and denounced the "PC police" (Politically Correct) for attempting to discredit him.
Williams said that Carson "is a man of faith" who has visited Baltimore after its recent riots and South Carolina after nine parishioners were fatally shot by an alleged young white supremacist.
Carson will eventually visit Chicago, Williams said.
"He is someone who cares."