Public League Legends Aim to Put a Full Court Press on Violence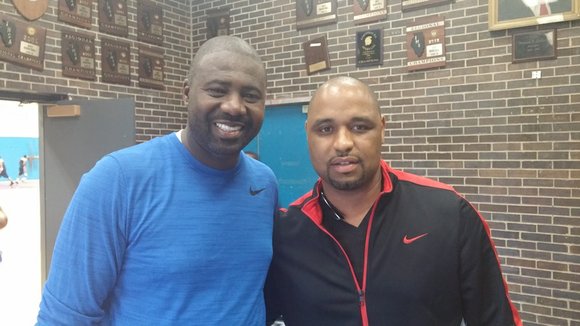 The heartbreaking and senseless violence that has been occurring in Chicago for decades has galvanized a group of former Chicago public league basketball players and has inspired them to put aside old school rivalries.

Jimmy Sanders, a former George Westinghouse High School (now College Prep) standout, created an event around the "truce" ten years ago.

"Gangbangers were killing each other and the kids had nowhere to go so I took a church lot, two rims and some tape so we could have a basketball tournament," Sanders says. "I took all the kids from the hoods and put them on teams. So we started reaching more and more kids. "
Last weekend, Moore and Sanders sponsored a "Legends Taking Back the Streets" tournament with teams consisting of former public league players from the 80's and 90's. The teams were named after the schools the players attended, for example, Farragut, King, Crane, Orr and Marshall.

Moore, a former coach at University of Illinois-Chicago, now an analyst with the Big Ten Network, believes the game can help changes some of the negative narratives surrounding young people in the city.
"I played in one of these back in June, so got in touch with Jimmy [Sanders] and said we should have a game. Bring more teams," Moore says. "We wanted to bring more awareness to what is happening in our community."
Moore says he had no problems in getting the former Public League players to support the tournament.
"Everyone wanted to put a team together and get involved," Moore says. "Everyone said we want to get involved and get back in the gym in order to get back in shape. North Side, West Side, South Side, we wanted to get everybody back together."
Former Public League standouts such as Ronnie Fields, Michael Hermon, Kenny Pratt, and Arthur Agee along with suburban standouts such as former Proviso East player Donnie Boyce also played.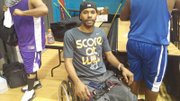 Marshall High School alum Shawn Harrington attended the festivities. Harrington was once a victim of the violence that has gripped the city. Back in 2014, Harrington was shot in the case of mistaken identity while driving his teenage daughter. He was paralyzed from the waist down due to the shooting.
"This is like history taking place before us. All of these guys are legends. It is great to come back and see some of these guys," Harrington says. "Some of these guys brought their kids and grandkids out. This is all about stopping the violence."
Rashard Griffith, a former Martin Luther King High School (now King College Prep) standout came out to support his school's alumni. The 1993 Illinois Mr. Basketball says he had a great time seeing many of the players he once played againstwhile reaching out to the current generation.
"It's great to be around the guys I haven't seen in a while. The cause is great and the fact we get the kids off of the streets and see that you could make it," Griffith says." We came from the same communities they came from. "
Before Sanders knew it, many Chicago Public School basketball alums came out of the woodwork to participate. He says the event was a big success.
"We can play basketball and we can learn how to live together. I told them I needed their help to stop the violence and spread the message to our young people. This is our third year having this event and it is getting bigger and bigger."