Youthful Guest Speaker Wows Chatham Business Association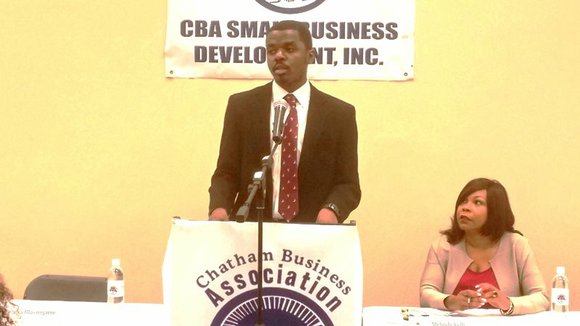 Alexander Buckles, the Supplier Diversity Analyst for the McCormick Place, was the guest speaker at the Chatham Business Association's (CBA) monthly meeting last week.

Buckles, 25, who is quite knowledgeable and impressive for his age, is responsible for the administration, development and maintenance of the McCormick Place SMG's Supplier Diversity Program, where he ensures compliance regarding minority and women owned business enterprises (MBE). Buckles explained to CBA members how to become MBE businesses and how to therefore do business with the McCormick Place.
"Come to events like this and get your name out. It's going to grow and it's going to help your business. I don't think people communicate the value of having a certification," Buckles explained. "The buyer who is procuring their services. We really do look hard at certifications. If even you are a woman, or a minority. It helps us mitigate a lot of fraud of people who try to impersonate a MBE [Minority Business Enterprise].
Buckles, a native of Chicago's Pullman neighborhood, also gave advice to aspiring entrepreneurs.

"I think that events like this shows that if have a plan, you can open yourself up to a lot of resources and opportunities," Buckles says. "I attend these things all the time and I'm amazed at who's doing what and who doesn't know what their certification really holds."
Since the McCormick Place procures $12 million dollars' worth of supplies and services from minority and female vendors on an annual basis, CBA's Executive Director, Melinda Kelly, felt Buckles would be an ideal speaker to present to the group.
"At monthly meetings, we bring in procurement experts, contractors, anything that helps our business understand the process," Kelly said. We need to make sure this is a successful connection. Alexander did a great job of explaining that today. He added other resources for the Chatham Business Association."
Nate Stewart is a regional sales director with Merchant Mobile Connect. He told the Chicago Citizen Newspaper that he learned a great deal from Buckles, and was impressed that Buckles was so young.

"I'm not certified but that's something I'm working on as a small business owner. I appreciate this," Stewart said. "To have someone come in from the McCormick Place and give us this type of education speaks volumes. I'm going to pass the word along an encourage African-Americans to buy within our community. We need get the word out to our community on getting business certifications."
CBA member Ra'Oof Saleem says that Buckles' insight on the process of doing business with the McCormick Place was very educational.
"I learned a lot on how to do business with them and he [Buckles] was very thorough. I was very surprised that he was such as young man and I was hopeful that I could do business with a big business such as the McCormick Place," Saleem says. "The thing that resonated with me the most was the process. How do you talk to big business? That's why I'm a member of the CBA. It's hard to get in the door. By him [Buckles] outlining what you need to do, that's was the biggest thing."
For more information on the Chatham Business Association, log on to http://www.cbaworks.org/index.php.