South Suburban Official Leads Effort for Charleston Church to get Nobel Peace Prize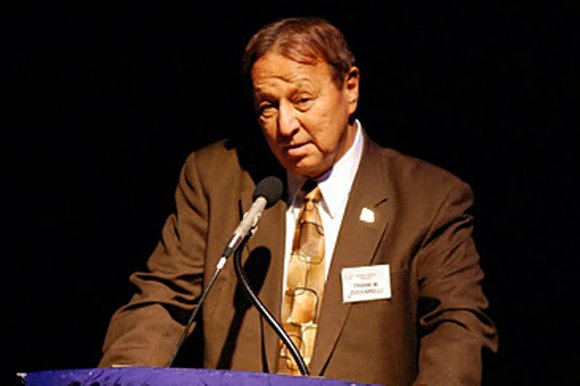 When Thornton Township Supervisor Frank Zuccarelli, watched television coverage of the fatal church shootings in Charleston, S.C., this past summer, he expected an angry response.
But Zuccarelli saw just the opposite. Family members of the victims publicly forgave suspect Dylann Roof for his alleged actions at Emanuel AME Church.
Zuccarelli is now leading an effort to have that church considered for a Nobel Peace Prize in 2016.
"I think that nobody that I have ever met in my life has done more to promote peace than the people of Emanuel AME Church and I can't imagine how anyone else can be considered over them," said Zuccarelli, whose township oversees 17 Illinois south suburban communities.
Last week, Zuccarelli talked about his effort at Chicago City Hall downtown as he was joined by about 20 others, including Ill. Sen. Donne Trotter (Dist. 17th), Ald. Michelle Harris (8th Ward), Ald. Leslie Hairston (5th Ward), Ald. Howard Brookins Jr. (21st Ward) and Chicago City Clerk Susana Mendoza.
"It is not hard to see how a racially motivated shooting could lead to calls for retribution, for additional violence, but people in South Carolina did just the opposite," Mendoza said. "The families of the victims and other members of the Emanuel AME Church took the right path, turned their tragedy into an opportunity to promote peace, unity and forgiveness. They showed Charleston and the nation that there is always the opportunity to heal."
Trotter agreed.
"There reaction was so unbelievable," Trotter said. "It is a belief that should be practiced around the world."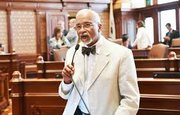 Last month, Trotter joined Zuccarelli and some 13 other Illinois residents to visit Charleston and announce their efforts to nominate Emanuel AME Church for the prize.
The current pastor, Norvel Goff accepted Zuccarelli's and others efforts to nominate his church for the prize.
"This is a journey of healing," Goff said. "We've never been here before but God knows all about it. In faith, not in fear; in love, not in hate. Moreover, we accept your efforts to nominate Emanuel AME for the Nobel Peace Prize."
Last June, Roof allegedly fatally shot nine members of Emanuel AME, including senior pastor and South Carolina State Sen. Clementa C. Pinckney. Another person was wounded during the shooting at the prayer service.
Roof, who is white, later confessed to shooting the African Americans, adding he hoped to ignite a race war.
Family members of the victims said in a hearing that they forgave Roof.
Roof has been charged with nine counts of murder, three counts of attempted murder and possession of a firearm during commission of a felony. Roof also faces federal hate charges, which are punishable by the death penalty.
His trial on the state charges is scheduled for next July.
The group hopes at least 1 million people will sign the petition at www.nobelpeaceprizeforcharleston.com.