Historical Strand Hotel Opens as Apartment Complex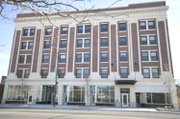 Regina Clippard immediately panics when she gets off of the bus and then walks two blocks in the dark every night to her apartment, after she leaves her job as a home healthcare worker.
The single 50-year-old woman says at least two people were shot in the last year near her home in Chicago's Englewood neighborhood.
In the next couple of weeks, however, Clippard's long scary walks will end.
Clippard is moving into The Strand apartments –the former 101 year-old Strand hotel, at 6321 S. Cottage Grove Ave. in Chicago.
Clippard said she will feel safer because CTA buses stop just across the street from The Strand apartments and a Green Line train station is also nearby.
Last week, The Strand opened with 62 apartments, most with income restrictions. The complex of studio and one bedroom apartments also has retail stores on the premises.
"To build a community, you have to do it from the inside out," said Peter Holsten, president of Holsten Real Estate Development who developed the complex. "This means that we as the developers must make more than bricks and mortar commitment. We have to start with the people."
The developer bought the building in 2014 from the city after it sat vacant for nearly a decade.
Chicago pledged $2.7 million in tax subsidies, part of a $12.4 million tax credit package used to transform the site.
Overall, the renovation project cost $23 million.
In 1914, the original 80,000 square-foot hotel was built with designs by architects Davis and Davis, who also designed Wrigley Field and the old Comiskey Park.
Eventually, the hotel became an attraction for great jazz performances. Legends like John Coltrane, Sonny Stitt, and Sonny Rollins all preformed in McKie's Lounge, which was once located in the hotel.
Eventually, The Strand fell victim to crime, a site where drugs allegedly were sold out of rooms.
Now, the hotel, which has some original fixtures restored, has many of the trappings of a modern multi-unit development --- a laundry room, an outdoor sitting area, gated parking and a weight room.
There are separate storage rooms – one for household items and another for bikes.
 The former lounge will serve as retail site with a MetroPCS cell phone store, the Ariel Joseph Art Gallery and Salon and a Subway restaurant.
 "I couldn't live in anything nice like this for what I earn," said Clippard, who makes about $1,500 a month as a home healthcare worker. "If it wasn't for God, I wouldn't be able to do this. This is a big step up for me. This is the first time in my life that I have lived in something this nice."
To be eligible to live at The Strand, most prospective residents can't earn more than 50-60 percent of the area's median income. For a single person, the maximum income is $31,920, while the cap for a couple is $36,480.
There also are market rate units, including at least one with a view of downtown Chicago.
 Apartment prices range from $475 to $750 a month.