Senator Dick Durbin Hosts Panel on the African Diaspora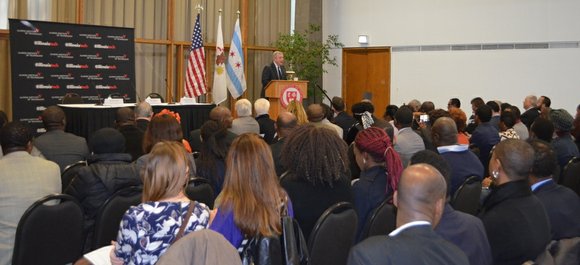 U.S. Senator Dick Durbin (D-IL) recently hosted an assembly of U.S. diplomats, development specialists and economic empowerment experts during a forum entitled "Going Far Together: Helping the African Diaspora Build Their American Dreams and Helping African Nations Realize Their Potential".
The session, which was held at the Illinois Institute of Technology's Hermann Hall, Main Auditorium, at 3241 S. Federal St., was also attended by members of Chicago's African community.
Durbin remarked on the importance of Africa as it relates to the Chicagoland area.
"Chicago is the home of the two most famous African-Americans in the world. You know who I'm talking about: Michelle and her husband. We're so proud that they are part of our community," Durbin said. "Chicago is also proud to be the home of choice for so many members of the African Diaspora community. You enrich our city and our region in so many ways and you have succeeded in so many walks of life."
Durbin went on to say that the forum was designed to illustrate the deep rooted connection between Chicago and the continent of Africa.

"The reason we are holding this forum is simple: Whether you were born in South Africa or the Southside of Chicago, whether you're from Botswana or the Back of the Yards, from Nigeria or Naperville – what happens in Africa affects us all."
U.S. Ambassador Johnnie Carson, senior advisor to the President of the U.S. Institute for Peace, delivered a keynote address regarding security challenges in Africa and U.S. policy.
Ambassador Carson served as Assistant U.S. Secretary of State for African Affairs from 2009-2014. His 37-year career in Foreign Services includes ambassadorships in Kenya, Zimbabwe, and Uganda, and embassy postings in Botswana, Mozambique and Nigeria.
Dr. Carson's remarks were followed by two panel discussions:
"From Challenges to Opportunities: An Economic Roadmap for U.S. Engagement in Africa," was moderated by Ambassador Carson and feature Gayle Smith, National Security Council; Dana Hyde, Millennium Challenge Corporation; and Stephen Hayes, Corporate Council on Africa.
"Engaging the Entrepreneurial Spirit of the African Community in Chicagoland," was moderated by Cheryle Jackson, vice president of AAR Corp. and a member of the U.S. Trade Representative's Trade Advisory Committee on Africa. It will feature Dr. Thomas Cioppa, U.S. Citizenship and Immigration Services; Robert "Bo" Steiner, U.S. Small Business Administration; and Rebecca Tancredi, Upwardly Global.