France Seeks EU Security Aid, Launches New Airstrikes on ISIS
Associated Press/Thomas Adamson Associated Press writers Matthew Lee and Jill Lawless in Paris, and Raf Casert and Lorne Cook in Brussels, contributed to this report. | 11/18/2015, 12:05 p.m.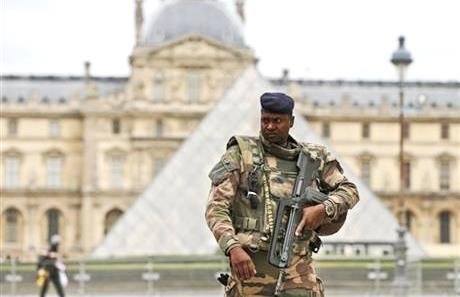 PARIS— France made an unprecedented demand Tuesday that its European Union allies support its military action against the Islamic State group after the attacks in Paris — a request that came as France launched new airstrikes on the militants' stronghold in Syria.
The deadly Paris attacks have galvanized international determination to confront the militants. Russian President Vladimir Putin ordered the Russian missile cruiser Moskva, currently in the Mediterranean, to start cooperating with the French military on operations in Syria and U.S.
Secretary of State John Kerry suggested that a cease-fire between Syria's government and the opposition could be arranged in the next few weeks to let nations focus on fighting IS.
The Islamic State group has claimed responsibility for the attacks last Friday in Paris that killed at least 129 people and left over 350 wounded.
The French government invoked a never-before-used article of the EU's Lisbon Treaty obliging members of the 28-nation bloc to give "aid and assistance by all the means in their power" to a member country that is "the victim of armed aggression on its territory."
French Defense Minister Jean-Yves Le Drian said all 27 of France's EU partners responded positively, and they could help "either by taking part in France's operations in Syria or Iraq, or by easing the load or providing support for France in other operations."
"Every country said: I am going to assist, I am going to help," Drian said.
Arriving for talks in Brussels with his EU counterparts, Greek Defense Minister Panagiotis Kammenos told reporters that the Paris attacks were a game-changer for the bloc.
"This is Sept. 11 for Europe," he said.
Paris police said 16 people had been arrested in the region in relation to the deadly attacks, and police have carried out 104 raids since a state of emergency was declared Saturday.
French military spokesman Col. Gilles Jaron said the latest airstrikes in the Islamic State group's de-facto capital in the Syrian city of Raqqa destroyed a command post and training camp.
French President Francois Hollande has vowed to forge a united coalition capable of defeating the jihadists at home and abroad. NATO allies were sharing intelligence and working closely with France, NATO chief Jens Stoltenberg said.
Noting that victims of the Paris attacks came from at least 19 nations, Hollande says the international community, led by the U.S. and Russia, must overcome their deep-seated divisions over Syria to destroy IS on its home turf.
"(Syria is) the biggest factory of terrorism the world has ever known and the international community is still too divided and too incoherent" in its response, Hollande said, adding that the "acts of war" in Paris were decided upon and planned in Syria.
Hollande is going to visit Washington and Moscow later this month to meet with President Barack Obama and Putin to discuss ways of stepping up international cooperation against IS and how to end the fighting in Syria.
Putin's cooperation order came as Russia's defense minister said its warplanes fired cruise missiles on militant positions in Syria's Idlib and Aleppo provinces. IS has positions in Aleppo province, while the Nusra militant group is in Idlib. Russian bombers hit Islamic State positions in Raqqa and Der-ez-Zor.