Social Media Photos of the Mother of a Slain Nine-Year-Old Insinuates she is to Blame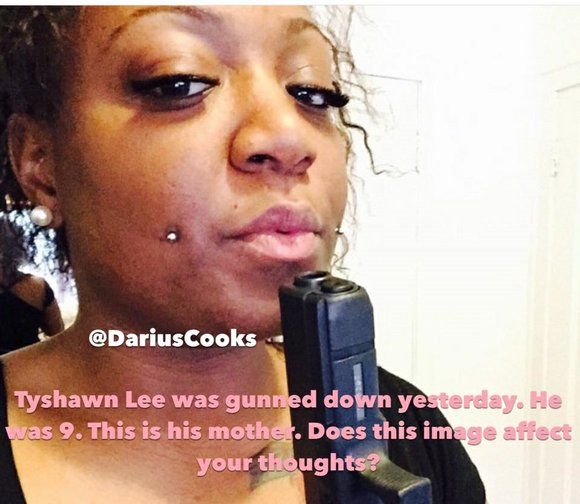 Ever since last week's horrific shooting of Tyshawn Lee, a nine-year-old who was lured into an Auburn Gresham alley and murdered, those who donated to a Go Fund Me account that was set up to cover the funeral expenses for the boy, have been bashing his parents Karla Lee and Pierre Stokes, thanks to photos shared on social media of the two.
For example, Darius Williams, posted a meme (photo with a caption) to his Facebook profile. The meme says: "Tyshawn Lee was gunned down yesterday. He was 9. This is his mother. Does this image affect your thoughts?"
It received mixed reactions from his Facebook followers.
Felicia Spencer responded to Williams' post by saying:
"I don't usually comment on anything you post but I truly think this is in poor taste to post this the day after her son was murdered. The media is probably working diligently to rip her to shreds so I don't think they need any help doing so. Please respect her loss…this is very insensitive."
Philippe Roelants said the picture gives a glimpse of a lifestyle that may have led to a horrific murder: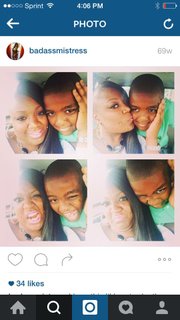 "It gives the appearance that she lives a life that was, at the very least, a factor in the death of her son. I'm not saying she is responsible. But I see "Live by the sword, die by the sword" when I see this picture. And that speaks volumes as to what type of lifestyle attributed to the position of her."
Trina Marie Jones believes that Williams ought to use his time more wisely.
"You have a large following. You could have been a blessing to this grieving mother. Don't become what you hate or do as they do. Hurt people hurt people. I pray you are healed. This isn't serving good taste. It's damaging. I hope you take this down. I hope she doesn't see this."
Williams defended himself by saying:
"All I did was ask a question and some of you are ready to crucify me. I never even stated how I feel. I'm glad most of us can be mature and have conversation around important topics...even if we disagree. I'm not trying to say anything. If I was, I would have said it. I asked a question. Period.
Williams went on to say, "For sure. This whole story has made me sick to my stomach. Lil homie had so much promise."
Lee's response to the photo was as follows:
"Really media this has nothing to do with my son. This pic is old AF [As F--k]. I'm not about that life. I was just posting something that still does not give me a mf the right to kill my baby nobody knows what him and me went there. F--k the media always judging someone." Pierre Stokes, the father of Lee, also came under fire for allegedly selling Rest in Peace t-shirts with his son's likeness on them.
Last weekend, it was reported by several media outlets that the memorial for Tyshawn Lee, alongside the garage it was on was, burned to the ground.
Earlier this week, an unconfirmed photo surfaced of Tyshawn Lee throwing up the gang sign commonly affiliated with the Gangster Disciples.
Kelly Fair, founder of Polished Pebbles, an organization that mentors young girls, believes that the view of Black women whether it is on television or social media, makes it easy for the general public to jump to conclusions without having all of the facts.
"It's a trend we notice in social media and reality TV of the overly aggressive Black woman. They are perceived to be that way," Fair says. "Black girls are rising in numbers for being overdisciplined and over represented in the criminal justice system. The school to prison pipeline for Black girls is a thing. All of our kids are in peril."
The memorial for Lee took place at St. Sabina church this week.