Fight for $15 Day of Action in Chicago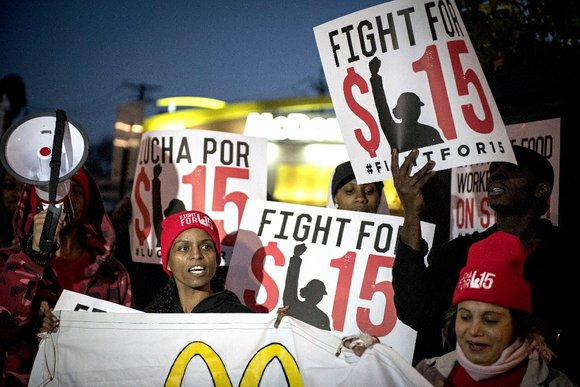 Chicago fast-food cooks and cashiers joined what was billed as the largest-ever strike to hit America's fast-food industry this week.
One year ahead of Election Day, "Fight for $15," staged walkouts in a record 270 cities, including Chicago.
Following the strike, fast-food, home care, child care, nursing home, and airport workers throughout Chicago will protest outside of the James R. Thompson Center, 100 W. Randolph St., joining underpaid workers in 500 cities nationwide to demand that elected officials nationwide stand up for $15/hr. and union rights.
The strike comes as Chicago's workers say they'll be taking the Fight for $15 and union rights to the ballot box to show all hopeful candidates, that the nearly 64 million Americans paid less than $15/hr. are a voting bloc that can no longer be ignored.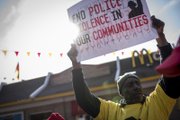 Chicago fast-food workers kicked off the protests by walking off their jobs at McDonald's, Wendy's, Burger King, KFC, Dunkin' Donuts and other major national restaurant chains.
Chicago fast food workers, representing every neighborhood in the city, gathered in the early morning in the Wicker Park neighborhood at the McDonald's at 1951 N. Western Ave.
They were joined by child care, airport, homecare workers, and adjunct professors to speak out.
The workers then protested and rallied in front of the McDonald's holding "I'm a Fast Food Worker and I'm On Strike" and "On Strike for $15 & Union Rights" signs. The workers then held a banner drop from the CTA Western Blue Line stop.

"Today we raise our voices because fast food companies are treating us unfairly. Many people like me are all underpaid and cannot support our families. When we get our $15, we won't have to depend on public aid; no Medicaid or Link for food," said Nancy Garcia, a 49-year-old McDonald's and Burger King Worker and first-time striker. "That's why in 2016, elected officials and those running for office need to make sure these corporations work for us and not against us. We have the power as voters to speak for ourselves and on behalf of those who cannot vote. And we're telling elected officials, to come get our vote by supporting $15 an hour and union rights."
According to the Fight for $15 protest group, there are around 2.5 million workers in Illinois paid less than $15/hr.
The Fight for $15 website reads:
"Fast food workers are coming together all over the country to fight for $15 an hour and the right to form a union without retaliation. We work for corporations that are making tremendous profits, but do not pay employees enough to support our families and to cover basic needs like food, health care, rent and transportation. Too many of us are forced to rely on public assistance to scrape by. These are billion-dollar companies that can afford to pay their employees better. Low-wage jobs are the fastest growing jobs in the nation, and they need to pay more so that workers like us can make ends meet, and rebuild the middle class and get the economy working again."
According to Buzzfeed, a study commissioned by the National Employment Law Project, of workers paid less than $15/hr., showed that 69 percent of unregistered voters would register to vote if there was a candidate who supported $15/hr. and a union; and that 65 percent of registered voters paid less than $15/hr. would be more likely to vote if there was a candidate who supported $15/hr. and a union. That's 48 million potential voters who could turn out if there were candidates who backed higher pay and union rights.
For more information, log on to http://fightfor15.org/november10/come-get-my-vote/.