Couple Raises Grandchildren after Daughter, Son-In-Law Killed in South Suburban Crash
Robert and Barbara Campbell spent most of their lives raising nine children in a south suburb of Chicago, Ill.

For the last few years, the 61-year-old retired couple kept busy by helping to raise a couple of grandchildren.
Now, their Robbins household is full again with the addition of three more grandchildren: Cloey Jones, 8; Elisha Jones, 7, and Daniel Jones, 6.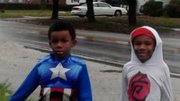 That's because, sadly, the three youngsters lost their parents Cherise Davis-Jones, 43, and Less Jones, 59, in a three-car crash on Aug. 28 in Robbins. The three youngsters also were injured when their family's minivan was hit by two cars suspected of drag racing.
The Robbins family had just left a church event at House of Prayer Church in Harvey, Ill.
 "I am very angry about the accident," Barbara Campbell said. "I try to not let it bother me that much. I try to focus on the Lord. My daughter was taken that quick."
Cherise Davis-Jones was the eldest of Campbell's children.
"She was a good student and helped take care of her younger brothers and sisters," Campbell recalled. 
Davis-Jones, a former Eisenhower High School student, later was a stay at home mother. Her husband helped out with mechanical work at a garage and had heart problems, the family said.
 The couple also was very involved with their children, the family said.
The Campbells said they are now proudly but sadly raising the children.
An older sibling of the Jones children, Levell, 9, already lived with the Campbells.
Barbara Campbell said she starts her week days by taking her husband to his kidney dialysis, making the youngsters a hot breakfast, and taking them all to school.  She said she helps them with their homework when they return home from school.
 "They are real good," Campbell said. "They still have problems sleeping sometimes. They ask about their parents. It is kind of difficult because of what they have been through."
Cloey Jones has difficulty walking. She broke her leg during the incident.
All of the children currently receive counseling, Robert Campbell said.
Community members have helped the family since the accident with donations and gifts. The Jones didn't have insurance.
The Campbells' pastor, the Rev. Robert White of House of Prayer Community Workers in Robbins, also has been helpful and last week, Toys for Tots delivered toys to the Jones children at the Robbins Village Hall.
 "We are just trying to do the best that we can," Barbara Campbell said.
 Since the incident, Douglas McGrew, 25, and Craig Stevenson, 41, were arrested and  accused of racing their cars at a "high rate of speed" northbound on Central Park Avenue and running through a stop sign at 137th Street, causing them to strike the minivan, officials said.
McGrew, of Robbins, and Stevenson, of Lynwood, were both charged with reckless homicide. McGrew was also charged with two counts of aggravated DUI, according to officials.
Four other adults were injured in the crash, including McGrew and Stevenson and the passengers in their cars.