Chicago Hip-Hop Musicians Start Anti-Violence Campaign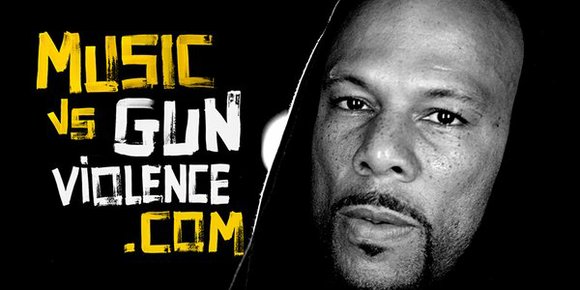 Last month, a group of Chicago Hip-Hop artists and producers launched a new anti-violence campaign, aimed to tell the stories of those who've been affected the most by the violence in the city.
"Put The Guns Down" is a music video featuring several Chicago rappers, including Common, Lil Herb, King Louie and Mic Terror, alongside people holding up pictures of loved ones whom they have lost to gun violence.
The video opens with the statement, "In Chicago, someone is shot every three hours."
The initiative was started by the non-profit organization "Chicago Ideas" along with the ad agency Leo Burnett.
They encourage people to submit their own guest verses to the video through their website and by using the hashtag "#PutTheGunsDown" on social media.
The "#PutTheGunsDown" hashtag has once again picked up steam online after it was reported that Tyshawn Lee, a nine-year-old boy was murdered this week in Chicago's Auburn Gresham neighborhood.
Twitter users left comments such as," Lord, This baby was also on his way to his grandma's! #PutTheGunsDown HELP," and "Sad to see & here about #TyshawnLee. A 8 yr old boy killed playing outside in Chicago This happens too much in our country #putthegunsdown."
Mic Terror, a member of a Chicago Hip-Hop collective named "Treated Crew, "says he was honored when asked to collaborate on the initiative. He also said that the music coming out of Chicago these days a plays a part in young people making irrational decisions.
"I believe rap music has a portion of the responsibility for violence in the city, so do politicians (cough Rahm), preachers, voters, police, CPS, CTA, gangs, parents, etc. Everybody wants to shift the blame when everybody is to blame. Everybody needs to take responsibility, "Mic Terror said.

Ryan Brockmeier, the director of the upcoming documentary, "Midway: The Story of Chicago Hip-Hop," says that "Put The Guns Down" comes from a good place.
"I love seeing it because it is another socially-conscience movement created from Hip-Hop," Brockmeier says." That's something that's lacking in Hip-Hop in general, but specifically in Chicago."
To find out more information, log on to https://www.musicvsgunviolence.com/.