Mayor Emanuel Joins Bronzeville's Night of Faith and Action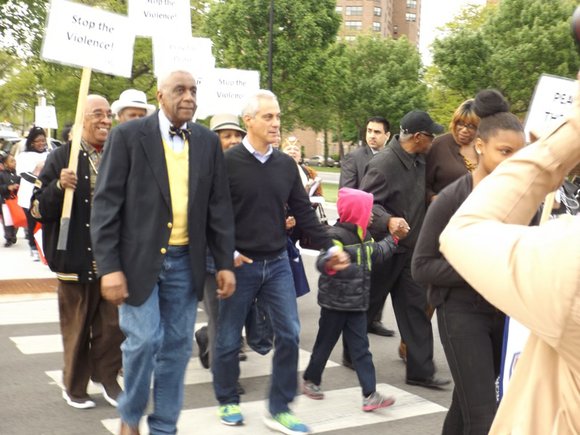 Chicago Mayor Rahm Emanuel joined community groups and residents who packed Metropolitan Apostolic Community Church at 4100 S. Dr. Martin Luther King Drive., on Friday to take part in the second annual Night of Faith in Action march and rally and Bronzeville. A citywide initiative, the event helps empower concerned residents in creating safe and welcoming neighborhoods.
Speaking from the pulpit of his Metropolitan Apostolic Community Church, the event's kick-off location, Rev. Dr. Leon Finney, Jr. addressed the geared- up audience who were holding "stop the violence" signs, saying, "Chicago has many strengths and I'm proud of my city but we have many challenges…More than anything else we're suffering from too many of us who are out of work or are working for low wages. We've got to end poverty."
Finney also mentioned Ill. Gov. Bruce Rauner's proposed human services cuts and talked about how tackling poverty addresses crime.
"I have nothing bad to say about Rauner, I respect him but I'm troubled by his policies and the Medicaid and Medicare safety nets may not be available," said Finney. "I'm also concerned that he would take on the unions. I know that unions have been good for the United States, making sure workers have a livable wage. I can't support your policies Mr. Rauner. Especially being a governor who possess so much wealth that you do not want to share the wealth. We pray he'll become a great governor."
Regarding Mayor Emanuel, Dr. Finney said, the mayor's policies inspire hope such as improving education for children.
"I believe the mayor has the mark of greatness and I believe we'll soon see a change in the situation we have in the City of Chicago," Finney continued.
Marching in blue jeans, a dark blue pullover sweater and sneakers from the church to about 40th and King Dr., Emanuel said Friday night is when he and his family observe the Jewish Sabbath but that he couldn't think of a better way to spend Friday than with the groups who came together for the Night of Faith and Action.
"Kids have gotten hardened too early," Emanuel said.
"They're used to gun shots instead of laughter. We never stand taller than when we are raising are kids. Our kids do not belong to gangbangers out there," the Mayor said as he acknowledged Ebonie Martin, the mother of Deonte Hoard, an Urban Prep High School student who lost his life to gun violence. "She's incredible. I would be wrapped around my anger but she instead is here (to help take our streets back)."
Ald. Pat Dowell (Third Ward) also took part in the march that continued along the sidewalk to 47th and Dr. Martin Luther King Drive.
"It's going to take all of us working together to keep our communities strong and protect our babies. In addition to the police, there are things we have to do such as settling our conflicts with talk," Dowell said.