Ill. State Sen. Hunter Sponsors Legislation Aimed at Youth Aging Out of Foster Care System
5/27/2015, 3:41 p.m.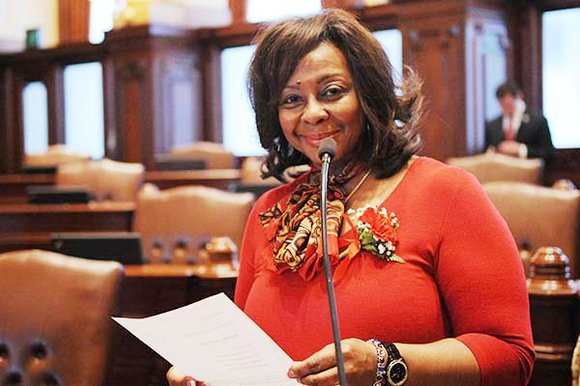 More than 3,000 young people will age out of Illinois' foster care system this year, where they will face the world hopefully, as self-sustaining adults. To help make their transition as seamless as possible, Ill. State Sen. Mattie Hunter, (Dist.-3rd), sponsored legislation—Senate Bill 1255—which creates a Foster Youth Summer Internship Program that provides professional training and experience for youth as a way to prevent the pitfalls of homelessness and incarceration among youth who age out of foster care.
The Chicago Citizen Newspaper spoke to Sen. Hunter about the Bill that passed the Senate 49-1 and the House 115-0 and is now on Ill. Gov. Bruce Rauner's desk awaiting his signature.
"Affording foster care youth the opportunity to work, prevents them from living on the street," said Hunter, a career advocate for youth employment. "Internships teach youth strong work ethics and help them develop work skills they can carry with them throughout their career."
When asked the likelihood that Rauner will sign the legislation especially with the number of cuts he's proposing in Illinois' FY2016 budget, Hunter, who serves on the Department of Children and Family Services (DCFS) Advisory Board, said it's highly likely the governor will sign the Bill because no additional state funding is required to run the two-year pilot. Funding for the program will come from DCFS's budget.
"DCFS already has similar initiatives, all they have to do is fold this program into their already existing similar programs. This is just another tool to assure the youth can gain productive lives…it's an enhancement of what DCFS already has in place with job placement," Hunter continued.
Once the Bill is signed, the Internship program is set to start Jan. 1, 2016 and operate for a two-year period before being assessed for long-term implementation.
As for the number of youth aging out of the system (Aging out of the system is different throughout the state) this year: 839, 17 year-olds; 805, 18-year-olds; 724, 19-year-olds; 683, 20-year-olds, 197, 21-year-olds and 84, 22-year-olds.
Hunter, Ill. Legislative Black Caucus Whip, stated previously that "Financial hardships pressure young people to find a job. Youth are going to find ways to survive regardless, whether it's working for a business or on the streets. Our job is to create constructive options to uplift our most at-risk residents."
In 2011, Illinois had the third largest number of youth in the U.S. who aged out of foster care at 21 percent, according to Northwestern University. The same year, the University of Chicago reported that those young people faced challenges including unemployment, homelessness and incarceration.
Hunter modeled the program after similar foster care internship pilot programs in Maryland, Missouri and Florida.
Employers already aligned with DCFS will hire the youth for internships with their businesses and companies.