South Shore Drill Team Celebrates 35th Year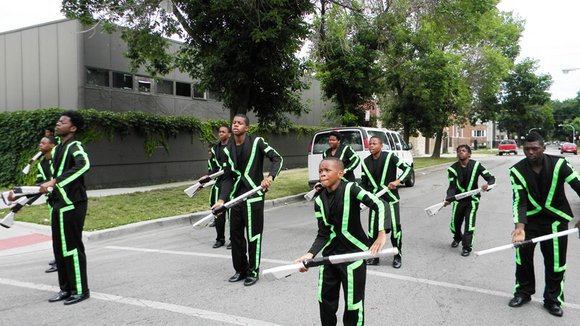 Captivating audiences with synchronized marching, baton and flag twirling and riveting dance routines, the South Shore Drill Team, featuring youth from Chicago's Southside, is celebrating its 35th Anniversary this year with a high-energy, celebratory performance planned for 7 p.m. Saturday, June 27 at the Harris Theater.
Throughout its 35, year history, the team has wowed audiences nationwide including at Walt Disney World, Soldier Field, the Kentucky Derby, the Indy 500, and Chicago's annual Bud Billiken Parade.
"Our goal is to showcase the talent of these young people and raise the visibility of youth (who are) focused on building a future for themselves," explains Arthur Robertson, founder and director of the team."
Robertson, a Chicago Public School teacher, in 1980, founded the South Shore Drill Team to offer a positive and creative outlet for the city's youth. What began with four neighborhood children twirling wooden rifles has grown into a nationally-known organization that performs at more than 125 events and serves more than 300 young people ages 8 to 21 every year.
For the past three years, 100% of the team's high school seniors graduated and nearly all are in college. Last year, the group served 300 youth who performed at 87 events in seven states.
For many of the members, being part of the team is like having a second family where older members teach younger members and former members return as coaches and mentors.
All members are required to be students in good standing, and their grades are monitored. Tutoring is available for those who struggle in school.
In addition to educational support, leadership development is also offered as a way to prepare members for employment. Over the past three decades, an estimated 5,000 young people have been part of the group.
Alumni include teachers, police officers, entrepreneurs, business managers, professional entertainers, and medical professionals.
The team's performances and colorful outfits change from year to year. The group's dance routines combine classical, gospel and hip hop music with electrifying precision-drilling, rendering the group a world class status.
South Shore Drill Team's Assistant Director, Michael Borum says, "We're in this to save kids' lives."
Tickets for the event are $20, with discounts available for groups of ten or more. To order tickets, visit the Harris Theater Box Office at 205 E. Randolph St. or HarrisTheaterChicago.org or call (312) 334-7777. Proceeds will fund educational support, employment training, court diversion, and other youth programs.