Chicago Bears Star Kyle Long and UnitedHealthCare Partner to Aid St. Malachy Students
Lee Edwards | 5/14/2015, 3:49 p.m.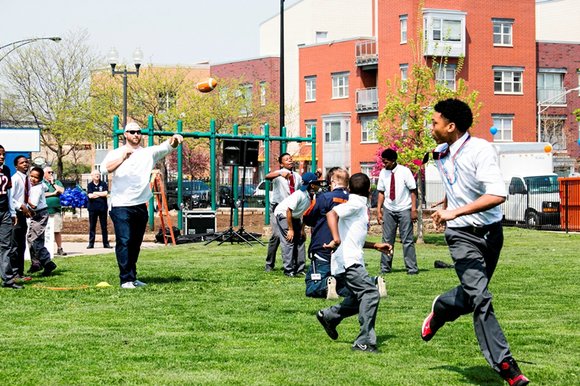 UnitedHealthcare (UH) donated a $22,000 grant to the Dreambuilders Foundation (DF) to fund a summer renovation project of Ellen Gates Starr Park, 2306 W. Maypole Ave. in Chicago. St. Malachy School's, 2252 W. Washington Blvd., uses Starr Park as its primary playground.

Chicago Bears Pro Bowl offensive lineman Kyle Long, has partnered with the Dreambuilders Foundation's Chicago to help raise awareness about the organization's programs and initiatives.
"Keeping kids healthy in Chicago is of vital importance, and I couldn't ask for a better partner in this effort than UnitedHealthcare," said Long. "The renovation at Starr Park will give the students at St. Malachy a fun, new place to play and stay active, and the food we give the kids each Friday through Blessings in a Backpack will make sure they get the nutrition they need when they are not in school."
The renovation is the latest in UnitedHealthcare's "Do Good. Live Well." employee volunteer initiative, whose mission is to prevent hunger and obesity, inspire service and encourage volunteerism.
The Dreambuilders Foundation is a non-profit organization that works with pro athletes in 13 cities across the country to help financially, physically and mentally-challenged kids receive the items, opportunities and equipment they need to reach their dreams.

The improvements to the 1.25-acre park will include new playground equipment, walking paths, site lighting, landscape improvements and a water-spray feature.
"UnitedHealthcare is grateful for the opportunity to partner with Kyle Long and Dreambuilders to increase awareness about childhood health, and promote healthy lifestyles and good eating habits in underserved Chicago neighborhoods," said Colleen Van Ham, president and CEO, UnitedHealthcare of Illinois.
Since January, the UH grant funded St. Malachy School's Blessings in a Backpack program which will provide nutritious food for 125 students every Friday afternoon over the next three school years. Combined with support from parishioners of Holy Name Cathedral, all 255 students at St. Malachy School receive healthy and nutritious meals on weekends.
Blessings in a Backpack is a 501 C (3) non-profit organization that provides elementary schoolchildren who are on the federal Free and Reduced Price Meal Program with a backpack of food to take home for 38 weekends during the school year. Backpack food includes easy-to-prepare, ready-to-eat foods, like granola bars, juice boxes, mac and cheese, and oatmeal. Currently, Blessings in a Backpack feeds more than 76,000 children in 44 states and the District of Columbia.
"We are truly grateful for our partnership with Dreambuilders and the generous support of Chicago Bears' Kyle Long and UnitedHealthcare, helping us feed hungry students over the weekend through our program," said Brooke Wisemen, CEO, Blessings in a Backpack. "Every child deserves the nourishment needed to learn and grow – because of their generosity, St. Malachy students will come back to school on Mondays better nourished and more ready to learn."
For more information about UnitedHealthcare's "Do Good. Live Well." employee volunteer initiative visit www.DoGoodLiveWell.org.
To learn more about Dreambuilders visit http://dreambuildersfoundation.com/.

To learn more about Blessings in a Backpack visit http://www.blessingsinabackpack.org/